17-Mile Drive, Carmel Mission, and Monterey (Day 4)
This was yesterday.
Drove out of Big Sur. Relieved to get cell reception. Relieved at gas prices below $3.70. Turned left onto 17-Mile Drive, which is mostly like a lightly-trafficked tour through beachside golf courses and houses. Continued for 17 miles. Exited. Went to the Carmel mission (that has a fancier name than that). Saw Junipero Serra's grave. Exited. Drove through the maze of Carmel streets. Found Hwy. 1, went north. Stopped in Monterey. Parked in a garage. Walked to waterfront. It's like a small-scale San Francisco (IMHO). Ate lunch. Walked to Cannery Row. No canneries in operation. Walked back to car. Pried bike out of back of cab. Re-attached front wheel. Tightened trip computer magnet. Changed into bike shorts. Rode up and down bike path from Pacific Grove to Seaside and back. Re-deposited bike in back of truck. Changed out of bike shorts. Went back to waterfront to verify. Still there. Returned to car. Packed an overnight bag. Drove up Hwy. 1 to the 101. Dropped in on friends in Sunnyvale. Ate dinner (very Italian, very awesome). Observed baby. Took walk toward downtown Sunnyvale. Returned. Showered (very nice). Went to bed.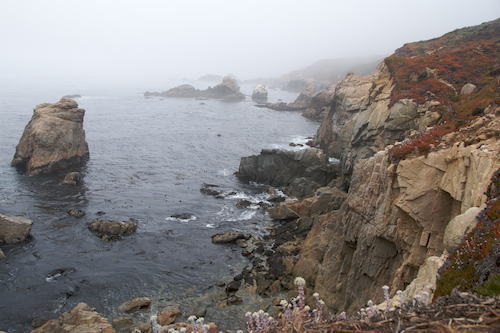 One last look at Big Sur coastline. It was a foggy send-off, so I missed the lighthouse and the bridges. Next time.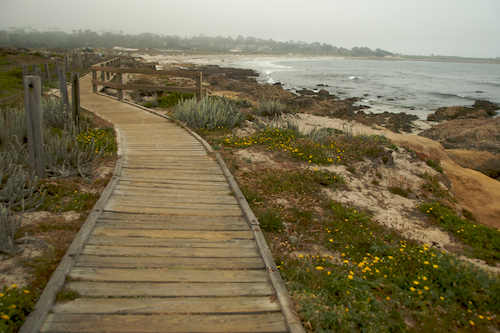 There was some golf course right next to this spot, but it seemed only moderately famous.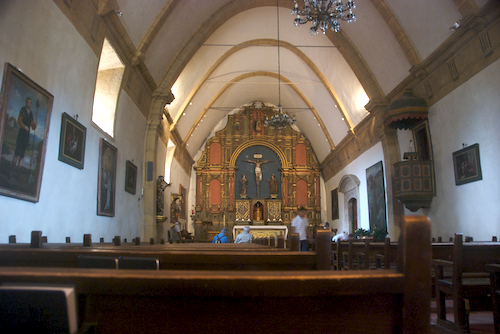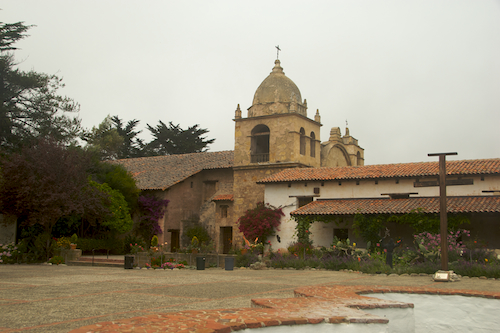 The mission in Carmel(-by-the-Sea). Would probably be good to take the second pic again on a blue-sky day. And a day when I wasn't so antsy to get going that I didn't play with the composition. Ah well: regret is sweet.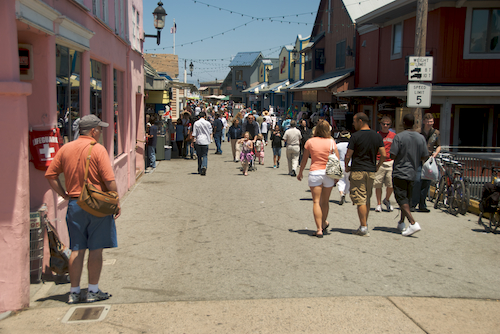 Fisherman's Wharf in Monterey, boasting the highest concentration of free clam chowder samples of any location in the lower 48.
Next up: SF and praying my car doesn't get broken into…!
bkd