Day 2: Hearst Castle
Ten Things About My Day at Hearst Castle:
Definitely worth going to once — a great monument to wealth and questionable taste.
$24 seems steep for a 75-minute tour (not including the 15-minutes-each-way bus ride from the visitors center).
Especially given that, if you touch a tree, the assistant tour guide yells at you.
The main house is actually a cathedral. If you ask the guide why William Randolph Hearst would want to live in a cathedral, she'll tell you it's because he had traveled Europe extensively and wanted "the ranch" to seem like a Mediterranean village. Yeah, but living in a cathedral?! Seems either misguided or sacrilegious. I mean, I've traveled a bit in Europe myself, but I don't want to live in a cathedral. Maybe that's why I'm not rich.
And aside from the cathedral in the middle, I'm not sure how this is in any way similar to a Mediterranean village.
Feels like the "Golden Age of Hollywood" in real-life form. Sunset Boulevard seems like it took some hints from here.
I don't actually know anything about architecture, just that it seems odd to have old choir seats that had been ripped out of a Gothic cathedral lining the walls of your dining room. Doesn't the Gothic cathedral still need those?
If I ever have a pool at my house, it should be like one of these (neither of which belonged in a Mediterranean village).
The ceilings were all very, very fancy.
And the tri-tip sandwich was pretty good.
Some photos: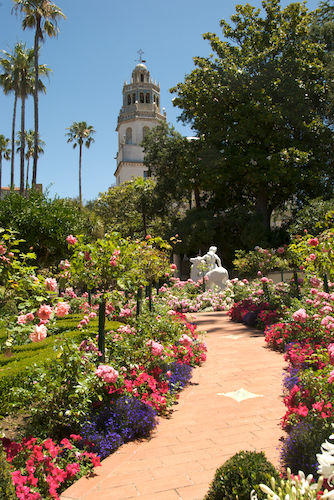 Ah, cathedral-sweet-home. Nice flowers, though.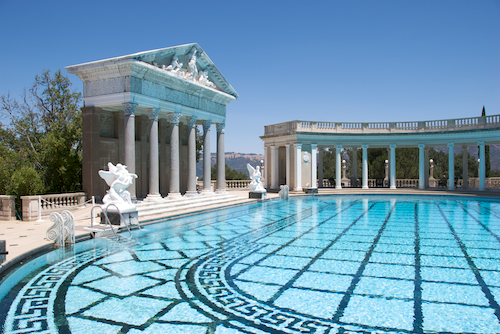 Plus, if you can get bored, you can play hitch-hiker's chess on the bottom of it.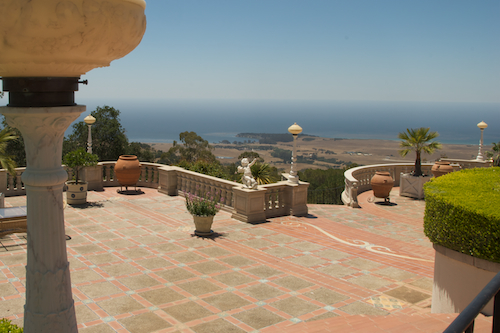 The view.
End of post.