Glen Alpine Trail to Aloha Lake (Day 12)
My big activity in Lake Tahoe — other than laundry — was taking this hike up into the Desolation Wilderness. It was on Backpacker magazine's Top 100 Day Hikes list from a few months back. Good call on their part! The route I took ended up being about 14 miles (it included a side-trip to Grass Lake and went all the way to the far end of Aloha Lake), but it was a fun 14 miles and this is probably a Top 5 hike for me at this point (we'll see what the rest of this trip brings).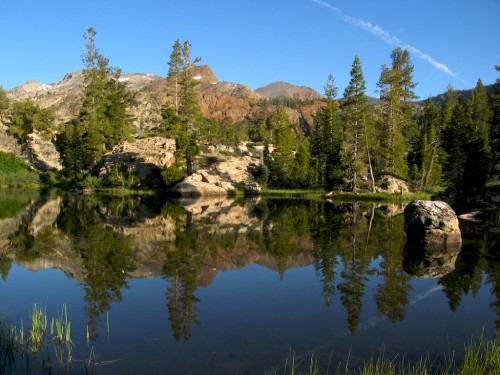 Plus, if you start the hike early enough, you can get to at least one lake before the wind kicks up and ruins the reflections. This was Grass Lake, first stop on the tour. If you look hard enough, there's a waterfall back on the mountain.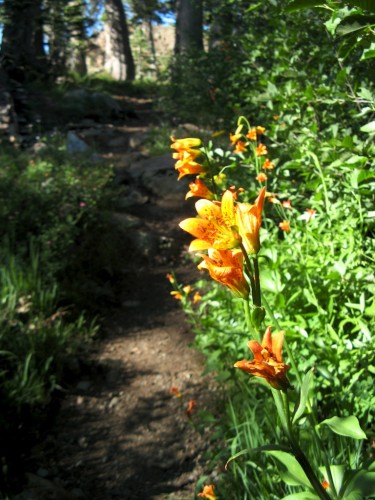 Right, so: wildflowers.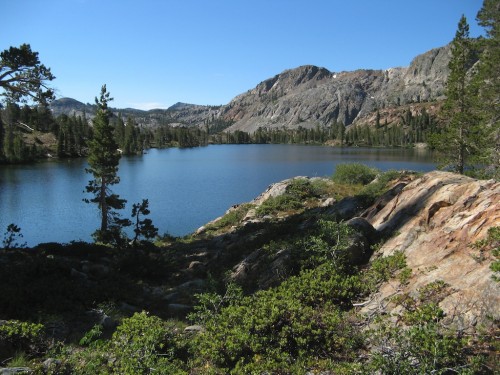 Lake Susie, a lake.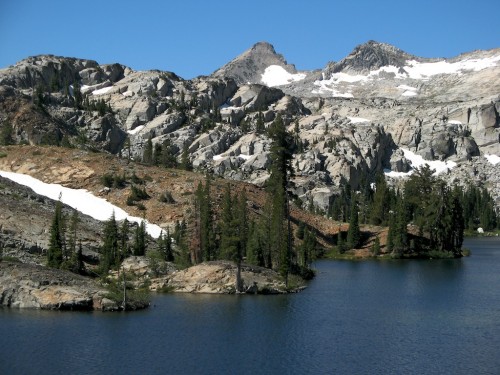 Heather Lake.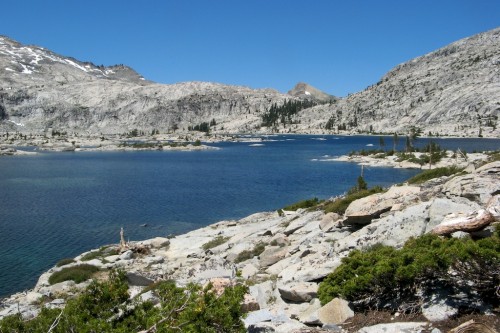 And the big one, Lake Aloha. Pretty alien-looking place, mostly above the tree-line. The Pacific Crest Trail runs alongside the lake.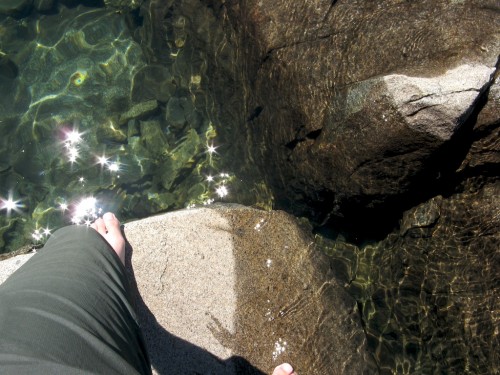 Headin' in! (But not before going back and putting my camera away, and then choosing a put-in point that doesn't involve me bashing my head on one of these rocks.)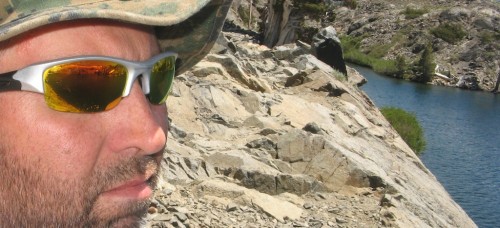 And my new goal for the trip is to take a reflection-in-sunglasses photo that, like, works.

Good:
Sound of running water the entire length of the hike.
Only a few co-hikers — only saw one until I got to Susie Lake. Made me feel like I owned the place, which, well, I like to feel when hiking.
The hike hits four lakes (including Grass), and each of them are pretty different.
A lot of wildflowers.
Lakes have good entry opportunities for swimming.
Starting to think that beginning hikes at daybreak is a good idea.
Bad:
BUGS! Until about 10 AM, the bugs were crazy. Almost aborted because of bugs and hiking in a Deet cloud isn't as fun as it sounds.
Didn't bring any sun screen (not technically the hike's fault).
Didn't bring my fishing pole (ibid). Although I think I've learned the conditions for hikes on which I should bring the pole, so: next time.
bkd