I, Mountain Climber: Lassen Peak (Day 15)
Fully acclimated to the extreme elevation (8,500′ at the trailhead), I went ahead and hit the peak trail. The Lassen Peak hike is notable for being one of the easiest-to-access 10K+ foot peaks that exists anywhere. It's a 2.5-mile (each way) trail — but it gains 2,000 feet in elevation, so it's a little steep.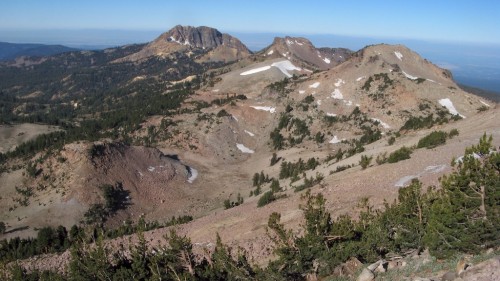 The Three Stooges — or something like that. The one on the left is Brokeoff Mountain again and this view is the hike's constant companion as the trail switchbacks all across the south slope of Lassen.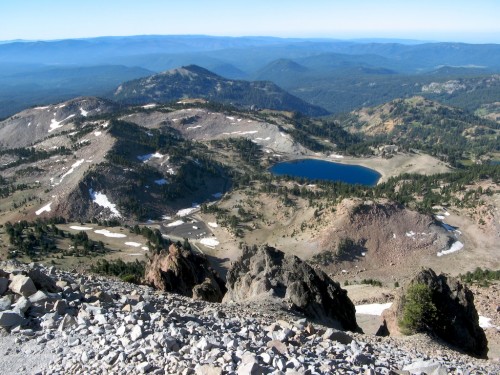 Lake Helen, the hike's other constant companion. The lake is right next to the three peaks above, just that you (I) can't get them into the same photo frame.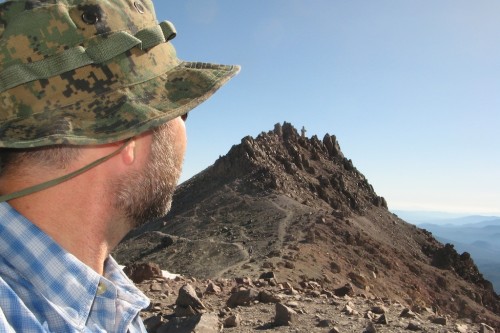 Looking ahead to the final assault!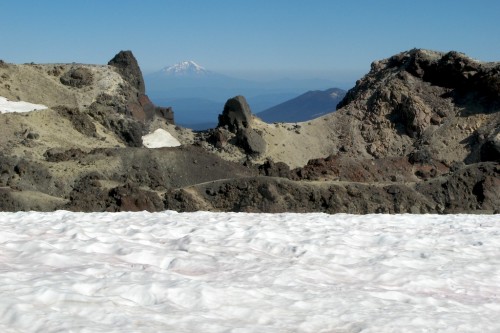 Mt. Shasta from the final Lassen Peak snowfield.
Made it! My head is higher than the highest point on the mountain, which I'm calling good enough. Even if I weren't acrophobic, I'm still not stupid (based on recent GMAT scores).
Other random notes:
I think I'm getting better at hiking uphill. Which I suppose makes sense.
There was a surprisingly large bee population at the peak.
This is the highest peak I've ever climbed, easy hike or no.
And it's only easy in terms of length…
Out.
bkd