Rafting the Tuolumne: We Got Swimmers! (But Mostly Paddlers) (Day 8)
When I got to Shalini and Raj's loft in San Francisco, it turned out they and some of their SF friends were planning on rafting in Yosemite at the same time I was planning on being there. Then they invited me on their rafting trip with them. This is the story of that trip.
Actually, more just another blog post with photos, not so much a story. Trying to find the meet-up place for where the trip was supposed to begin *might* be a story, and props to Shalini for keeping the faith that I would make it on time (or close enough), a faith based on the fact that she and Duncan and I had found each other in the middle Cologne with, well, no fall-back options or connectivity possibilities. And it was well-placed faith. But probably still not much of a story.
Anyway, Chander-Bhan and their gang apparently try to one-up themselves with the next-harder rafting trip every year. This is the third year they've done it, so the river was selected because it was Class V. I think the Buller River in New Zealand might have been Class V — the level of death-likelihood seemed similar.
There is no plot line to this post and no amount of random fact-regurgitation on my part is going to change that. May as well get on with photos. Please note that the photos are not of the good parts of the trip. During the good parts, you're usually paddling, holding on, and getting a face full of water, any of which preclude good photography.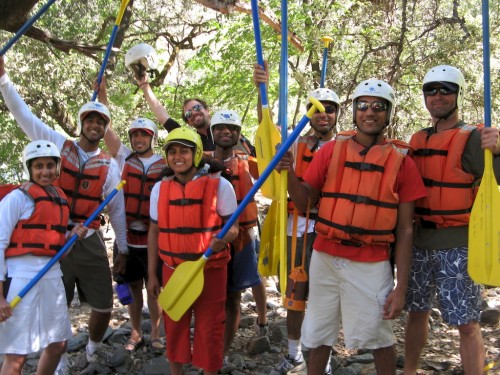 One of these kids is not like the others. Actually two aren't. But on the plus side, I now know how to say "you have a head wound" in Punjabi, Gujarati, and Tamil.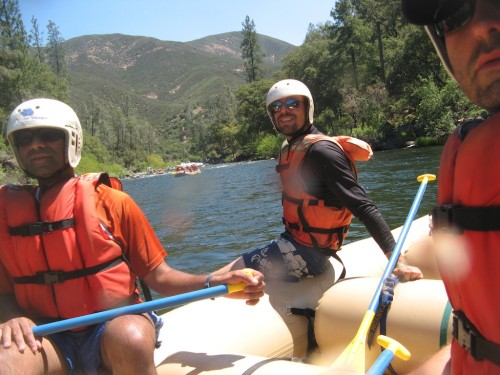 Sri, Dennis, me — 60% of our rafting crew. I'm guessing Shaan's swimming somewhere and our guide is smoking a joint in an air pocket under the raft. Image is slanty in order to imply something's happening — like in a Bourne movie.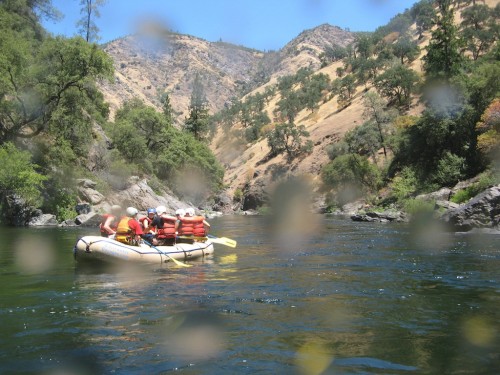 The wet lens probably conveys something accurately.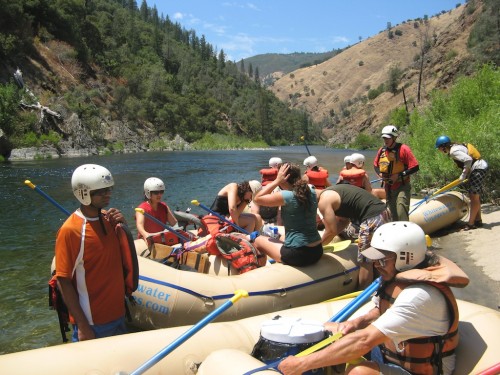 Lunch break. This happened just right after the wildest part of the river — which would've been a better photo, if only I wasn't paddling, holding on, and getting a face full of water.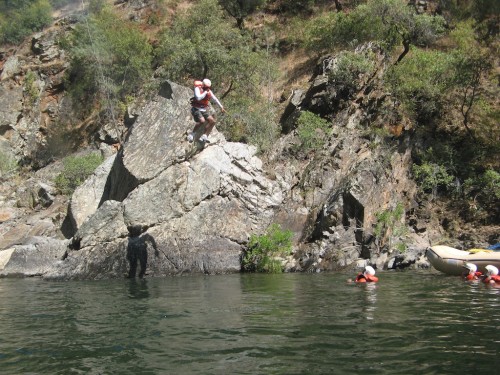 The bad part is that this isn't Sri — my photo of him didn't take until he splashed (apologies!). Cool shadow, though, IIDSSM.

Other random facts that don't make this post a story:
The run starts below the Hetch Hetchy reservoir and is only made possible by whoever it is releasing water out of the reservoir.
The scariest part of the trip was the bus ride down the steep, one-lane dirt road to the put-in point.
Despite being Class V, it didn't seem all that daunting to me. OTOH, I suppose anything that you survive readily enough without cracking your head on anything seems un-daunting in retrospect.
Still, rafting down the Skagit is going to be like the Jungle Cruise at Disneyland by comparison. Or maybe the Tuolumne was Jungle Cruise and Skagit will be It's a Small World.
Ours was the only boat without any accidental swimmers.
But we did seem to get stuck on rocks a lot.
I still wonder whether the accidental swimmers don't get more out of the experience.
I got a pretty good sunburn on my legs — next time, wear pants!
Fine with me.
bkd