The Oregon Coast Would Be Better with a Date (Day 17)
At least, that's what I'm figuring. I'm realizing there's a certain class of activity on this trip that is not ideally suited for individual travel and the Oregon Coast seems to be in that class. So were Monterey and Carmel.
Also, seeing all these sights in such close succession leads me to, well, compare them. Oregon Coast seems similar to Big Sur, thus I compare. And I think Big Sur wins. Way more drama, at least so far. Nothing much to *do* at either of them (I guess I could go collect sand dollars), but still — I like my Big Sur photos better.
'Course, today I'm probably going to a flight museum. That oughtta speed things up. And I'm thinking I'll be at REI in PDX tonight getting my broken down brand new shoes replaced (less than 50 miles and the soles are coming off). So things are looking up! And maybe the coast gets more drama once you're north of Lincoln City. Ah well.
It's still way better than working and the coast is very beautiful, even if I'm forced to recognize that it's not my favorite part of the Pacific Coast. (Plus all these little towns are very tourist-trappy, until you hit the Wal-Mart, at which point they also lose some of their charm. Meh!)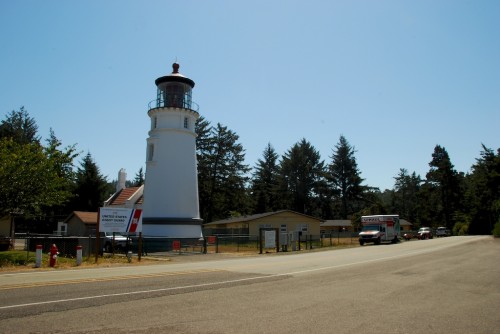 The Umpqua Lighthouse, bravely keeping Coast Guard family housing safe from errant U-Haul trucks.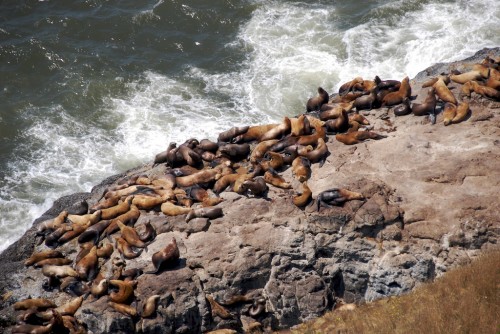 It costs $11 to look at these sea lions. And then all they can do is just writhe there.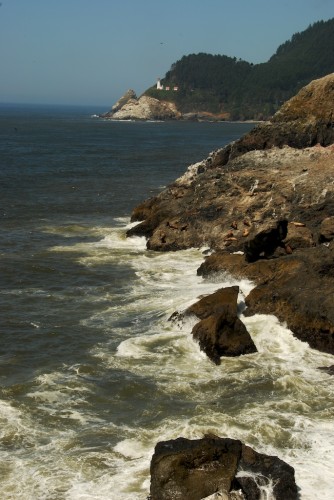 The Heceta Lighthouse, which — credit where due — is at least near the ocean.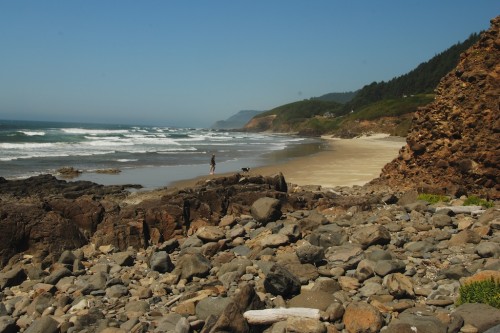 It's not that it's not pretty — just: (a) better with a date and (b) not as pretty as Big Sur.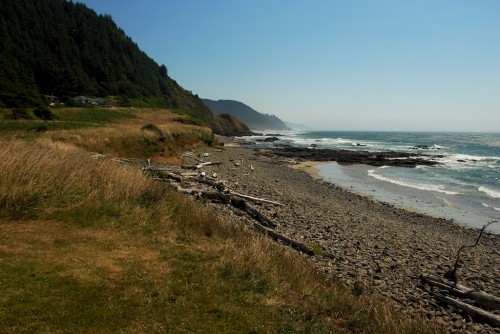 Vaguely reminiscent of the Na Pali coast, what with the fog in the distant cliffs and all.
And I'm still wondering if I'm just getting jaded from seeing too many great places. Ah well. Maybe I just need to get into another more-kinetic part of the trip. Maybe I should've just hiked the PCT instead. Maybe next year. No, really.
bkd