And on the Seventh Day the Heavens Cleared, And There Were Mountains (Day 36)
I understand that good weather isn't Washington's natural state, but this place is so much prettier when the sun's out it's ridiculous. And as someone who has waited two weeks just to get a transmission fixed, trust me, I *know* ridiculous.
The last day of the family reunion we finally got some decent weather, so we headed up to Mt. Baker, which was sort of supposed to be, like, the ever-present beacon of hope during our stay in that area. Instead it was a sort of hiss and byword that, some said, lay nearby and cloaked in clouds so that only the pure in heart could see it. I dunno. Maybe my heart just didn't purify until Sunday. It was probably the breakfast burritos that finally did it.
Nooksack Falls, falling.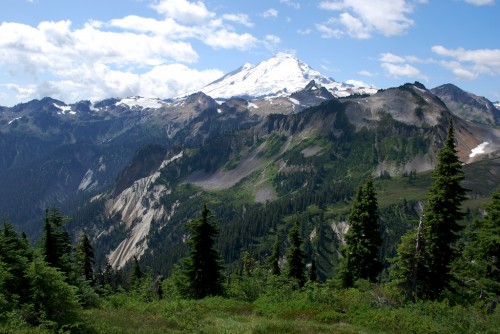 Mt. Baker, named by Oregon Territory politicians in order to curry favor with the then-powerful International Brotherhood of Pastry Chefs.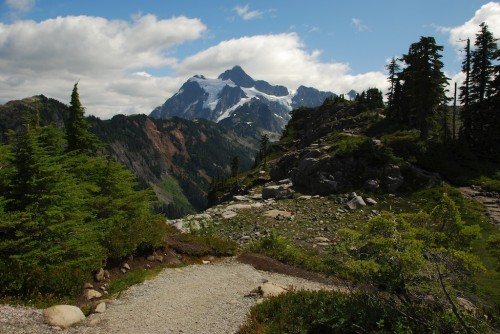 And then if you turn around you see Mt. Shuksan, which, if one didn't drive all the way to the top of the road, one might be inclined to think was Mt. Baker.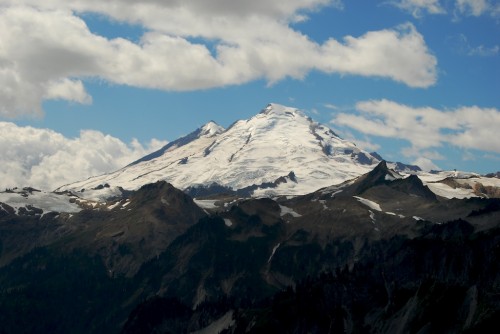 Then if you turn *back* around, you see Mt. Baker again, only this time it's RIGHT IN FRONT OF YOU!!! Beware Mt. Baker.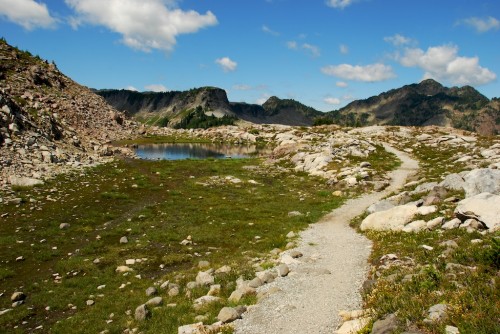 The flat thing at back-left is Table Mountain. This path does not actually go there.
I feel bad that my oldest brother and his family left Saturday night and thus never got to see the pure-in-heart version of the area and instead went away believing that the North Cascades are this place you go to where you sit around houses and play Butt Man all day. Not that there's anything wrong with that, just that it's not entirely accurate.
bkd