And Then Everything Fell Apart (Day 26, Part 2)
After St. Helens, started driving back to my parents' house. Got to Olympia, trying to accelerate uphill on the 5 and the engine just revved, nothing else. Had enough speed and space to get over to the shoulder where it became clear that the transmission wasn't, like, working.
And it's still not.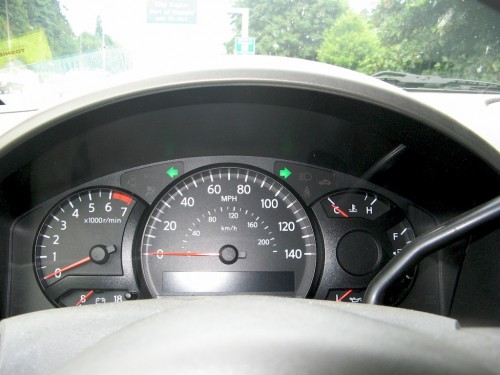 But on the plus side, at least my hazard lights work!
Fortunately I have AAA, so it got towed for free. Turns out that the transmission coolant line burst, which caused the failure. Cheap enough to replace the line, but it also turned out (I found out today) that the transmission burned up in the meantime. I'll call around and get some more estimates on Monday, but the AAMCO place quoted me about $2K, assuming they don't find any more problems once they get going on it.
The cost sucks, obviously, but I'm mostly just down on not knowing when they're going to have it fixed and not having any way of influencing, well, anything. Was supposed to be at the family reunion up here through Sunday anyway, so maybe it all gets done by then and it'll be almost like nothing ever happened. Then again, they could "find" more problems during the work they're doing and… who knows? Meanwhile, I'm stranded at my parents' house. It's a good place to be stranded, no doubt, but I guess I'm just used to having my fate in my own hands.
Oh, and there are no rental cars available in the Seattle area until Monday, at which point they're $65/day (?!). And the screen I brought on the trip for my XBox has cracked and therefore useless.
I dunno. Maybe I'll head out to the Olympics tomorrow with my brother and nephews (if I can find a car to borrow), or maybe not.
bkd