Sol Duc Falls and I, Breaker of Droughts (Day 30)
Never been to the Sol Duc part of Olympic National Park before. Now I have. Was pretty, the waterfall was unusual, and the weather was rainy.  I kind of prefer the spelling of droughth with the h at the end. Should've used it in the title.
We camped out by the rain forest. Started raining during the night some time — which you sort of expect in a rain forest, I guess. Drove out of there and tried — nearly failed — to get breakfast in Forks. We were, though, able to verify that the town's economy is still mostly Twilight-based. If only the author had visited before writing the books. So lame.
The hike up to Sol Duc falls was only 0.9 miles from the trailhead, well within tourist range, even with the rain. But on the plus side, it was the first time all trip I got to break out my rain gear, which is really good at keeping rain out. Which you'd think would be true of all rain gear, but alas.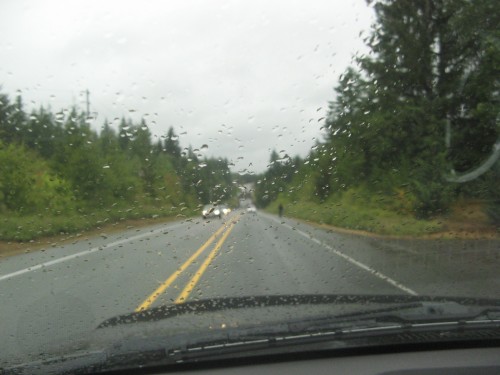 Highway 101 at 12:11:16 on August 10th.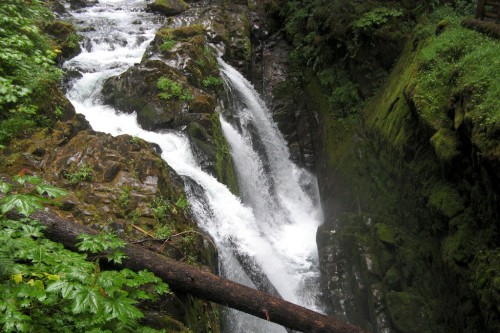 Sol Duc Falls, with impressive triple-cascade action!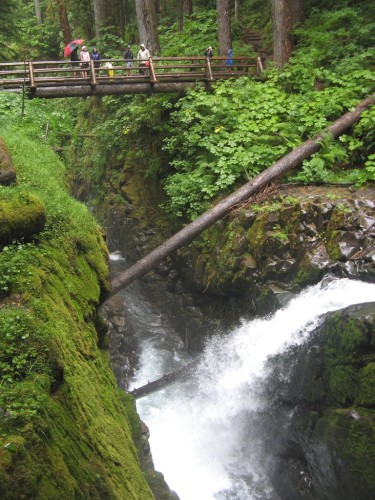 You know it's a tourist when he's carrying a golf umbrella onto the trail.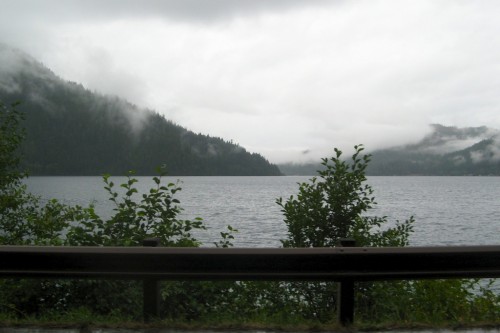 And then the loch ness monster came and ate our car.
I guess they'd had a long droughth up here. And it's not that hard for me to look back at my 106-degree Yosemite photos and think about the two averaging out.
bkd