Taking My Parents Out to Dinner for Their Anniversary (Day 32)
Has the 48stateroadtrip shark-jumped? Probably. The major event on Day 32 was taking my parents out to dinner for their 50th anniversary. As exciting as that was as a participant, I don't think it translates well into the blogosphere. But maybe, just maybe, if I were to go back in time and… no. There's no chance.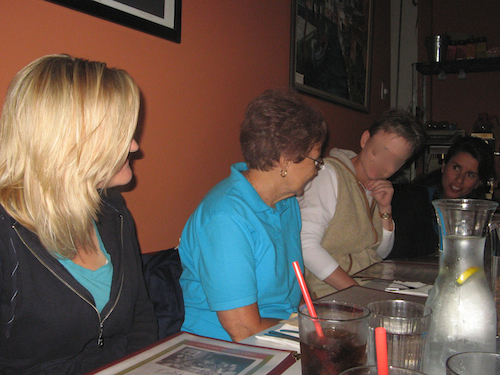 I'd suggest something about my sister-in-law being paranoid for not wanting her face to show up on the blog, but then she'd probably have stored up some instance in which I did something paranoid, which would therefore make a hypocrite out of me. Again.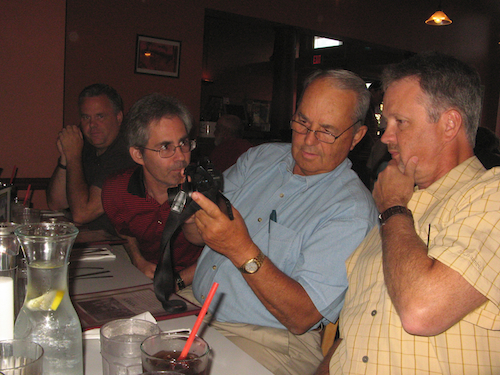 The boys' side of the table. They're not as odd as the photo makes them look — it's mostly the lighting.
Ended up going to some Italian restaurant in Bellingham after our original plan of going to Abbotsford (Canada) was thwarted by a combination of my niece (purportedly) throwing away my sister-in-law's passport and an eight-year period of unprecedented federal border paranoia that leaves us needing passports to visit the 51st state in the first place. As a result, sadly, no foie-gras.
The chicken parmesan was merely okay.
The lemonade required three packets of sugar before it was drinkable.
Everyone else seemed to have ordered much better than I did.
As for me, it was the first time I had to take ranitidine the whole trip long.
I sat at the head of the table — or maybe the foot.
Yes, this is the third straight food-related post.
Right. Shark-jumping.
bkd