Apparently There Are Salvadorans in Federal Way and They've Brought Food
Edgy headline, I know.
Just BTW, on Monday after the Olympic Peninsula I dropped my brother off at the rental car place so he could, like, get a rental car. Right next door to it was a Salvadoran restaurant that was chock full of Salvadorans. Decided to give it a try. Edgy paragraph, yes: this is J-McG Yelp review hell-quality. Let me therefore continue.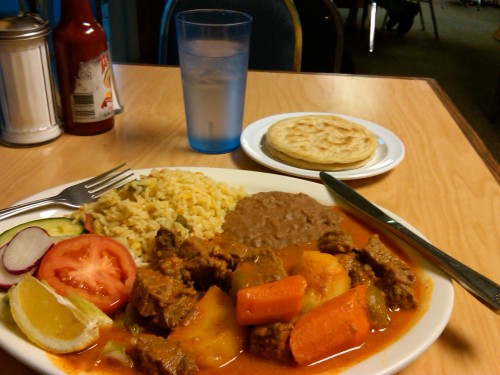 Although, granted, the rice was a little bland. I mean, there were lima beans in it.

I ordered the Pollo Guisado, but they were out of it, so I ended up with Carne Guisado. Yes, with capital letters. It rawked. I'm not a conoisseur of Salvadoran food or anything, but I liked it a lot.
The beef was great.
Sauce was excellent.
I loved that the waitress didn't seem to speak any English. If it was an act: well played.
Mi Chalateca, 336th and Pacific Highway, Federal Way, Wash. Go there now.
bkd