Adirondacks: The Brothers to Big Slide Loop Hike (Day 69)
"Big Slide Loop" is not a thing. "Big Slide" is a peak. "Loop" refers to the hike being a "Loop Hike". "The Brothers" may be a peak or several peaks or some other undisclosed feature. And the whole thing is in a part of the Adirondacks called the "High Peaks", even though the highest is only 5,000 and change. They're not far from Lake Placid. I camped at a campground called Wilmington Notch. There were showers, but the lines between campsites were indistinct. And though the weather looked sketchy, the guy at the mountaineering store said that I should *definitely* go hike Big Slide that day, because the rain was going to hold off and I'd definitely get the good view from the top.
My route: The Brothers trail to Big Slide, then down by way of the John's Brook South Trail.
There: the stage is set. Here are the ride-along photos.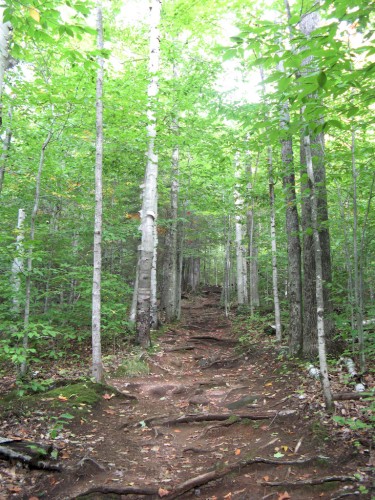 Path, uphill, with roots.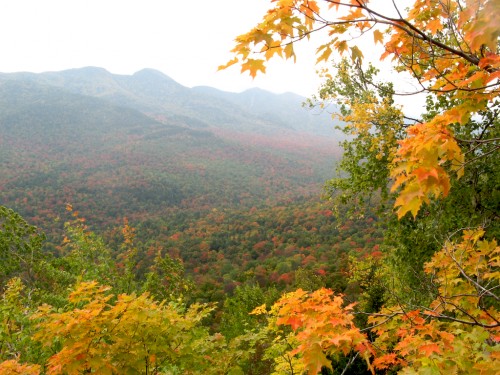 First valley view. Clear-ish.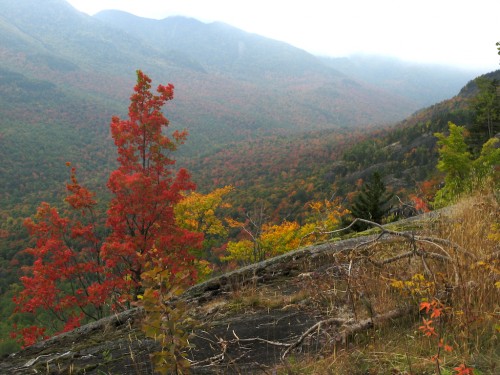 View from the First Brother. Maybe First Brother.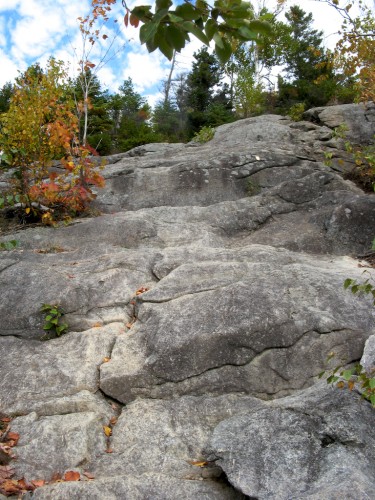 This isn't scenery, this is the trail. It's at least as steep as it looks.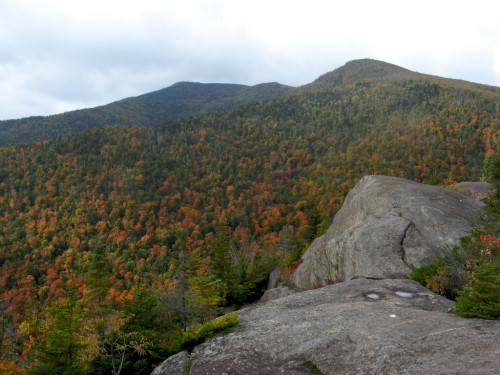 That peak up there is Big Slide. Still looking clear!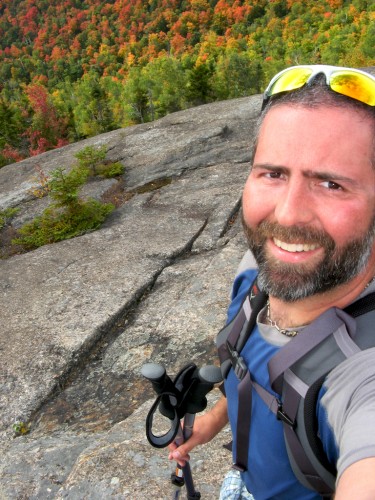 I'm going to say that this is me on top of Fourth Brother. If there *is* a fourth brother. If there are any brothers for that matter.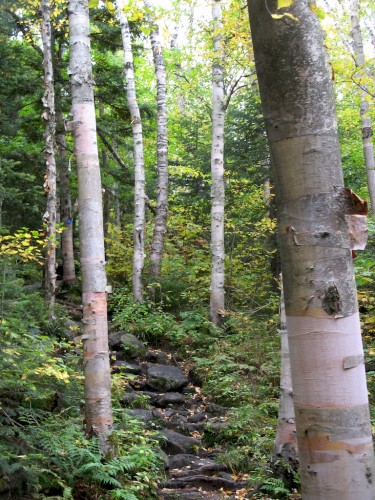 Steps through the trees.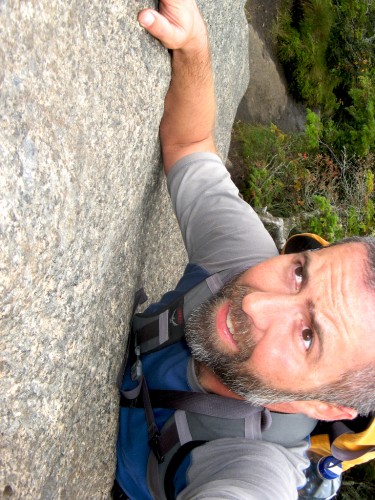 Final assault to the peak and me without my harness. (Fine, it's only about 70 degrees from horizontal in real life. That's kind of steep for a hike.)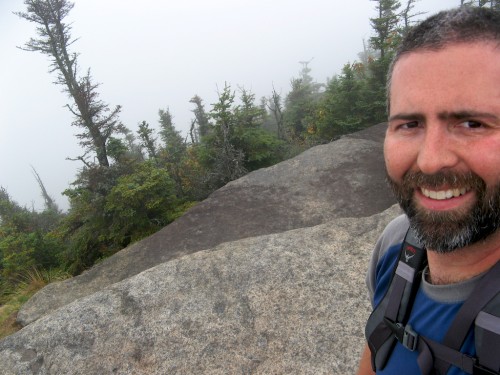 Me at the peak. Not so clear. But I like the idea that the world ends just past that row of trees there.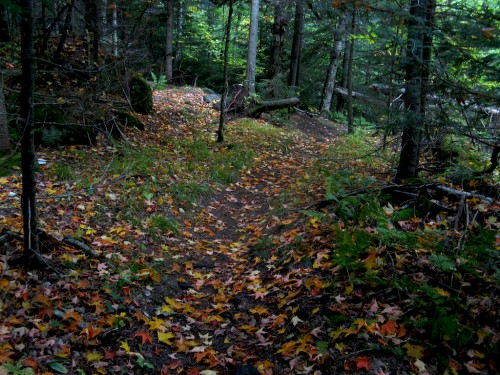 The way down isn't as steep, but it's two miles longer (four up, six down).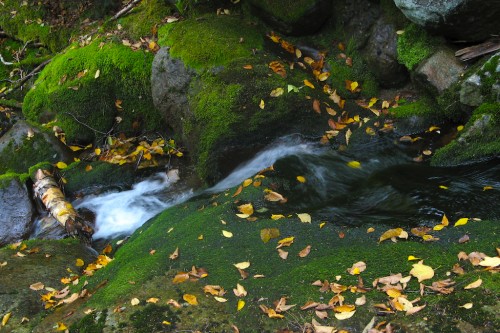 A brook-covered moss.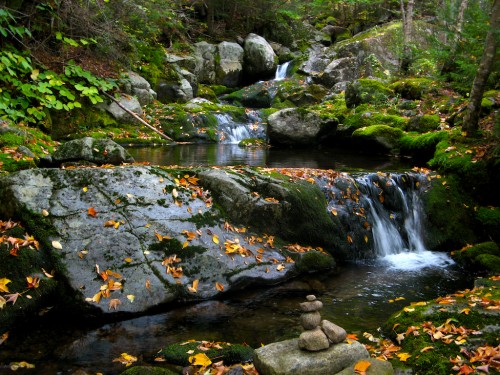 A happy cascade. I imagine. It's probably repressing anger at the cairn in the foreground, come to think of it.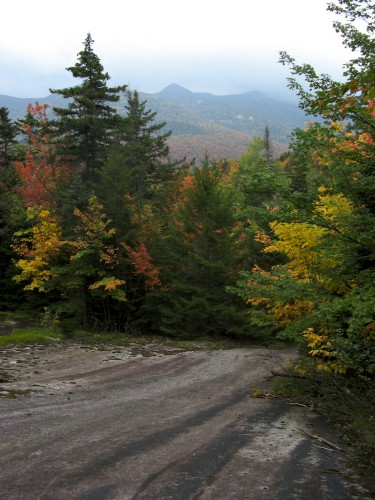 A big rock that looks like it could function as a big slide.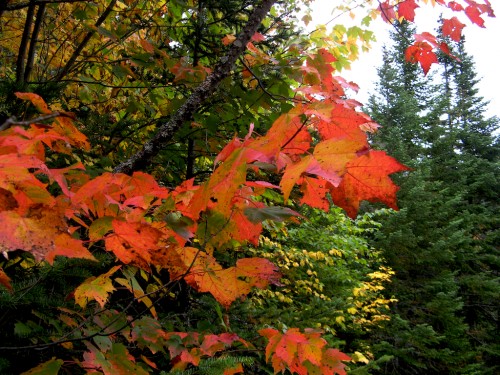 Leaves, red.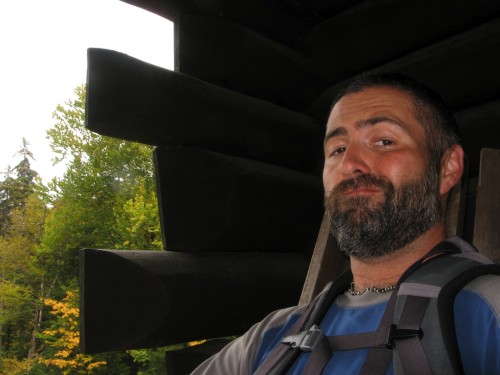 It's hard to completely disrespect a trail that places chaise longues at various locations.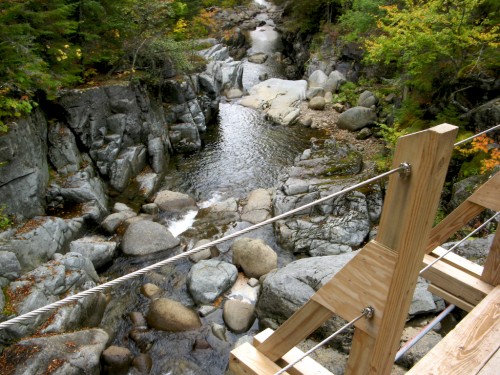 John's Brook.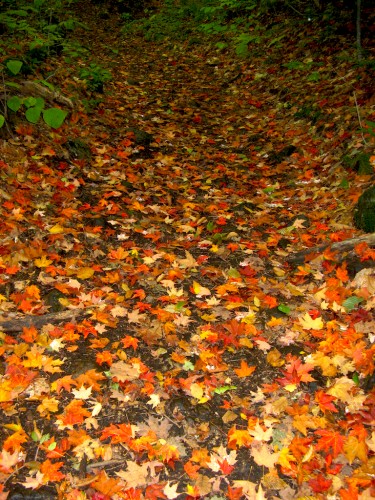 More leaves. And then it started raining.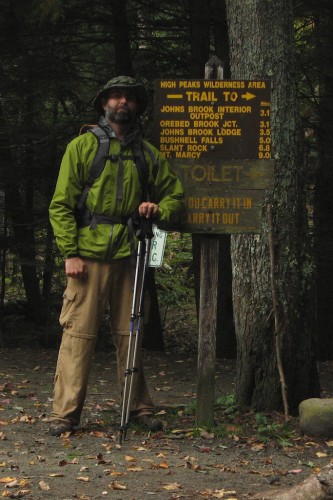 Proof Evidence that I made it back to the trailhead. Plus I wanted to show off my rain jacket that I never get to wear (because it doesn't rain on this trip, apparently).
Sorry for the narcissism on the photos — I just felt that it was *me* that was making this place come alive.
Without the view at the peak, the hike is a little light on payoff.
It's a very different terrain than I as a western hiker am used to. Out west they would've found some way to build switchbacks across all those faces. Not here.
As such, it's a ten-mile hike that took me six hours.
Also as such, the trail itself was more engaging than I'm used to — although there were also plenty of long stretches but nothing to do but go up steep, dirt trails and peer through the tree-prison.
And some of those rocks were pretty slick: yes, I fell once.
But: pretty, worth it.
So it was.
bkd