Hard Drivin' and the Buffalo Bill Museum in Cody (Day 45)
Stayed the night with Jon and Erin in Victor, Idaho. I was particularly impressed by their mature lifestyle that was a clear departure from how a college student might live. In the morning, we had breakfast!, which, somewhat confusingly for me, did not consist of high-fiber Pop Tarts: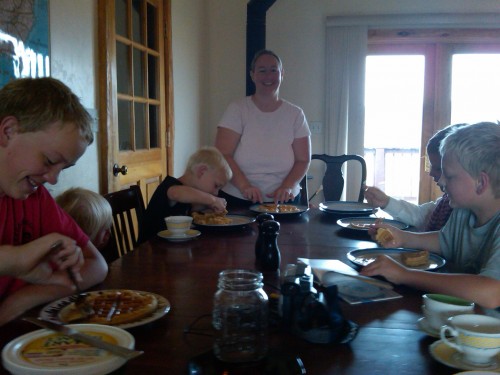 They have more kids than I do.
Then it was off to the open road. From Victor, headed onto Highway 22, which goes steeply and windingly over Teton Pass (not sure if that's the name, but it seems like it could be) to Jackson, Wyo., which is a town whose amazingness seems a little lost on me. Maybe because I never get out of my car when I'm there.
From Jackson, the road headed north back up through the parks — Grand Teton and Yellowstone. A couple things about Grand Teton. One, the mountain itself looks pretty cool: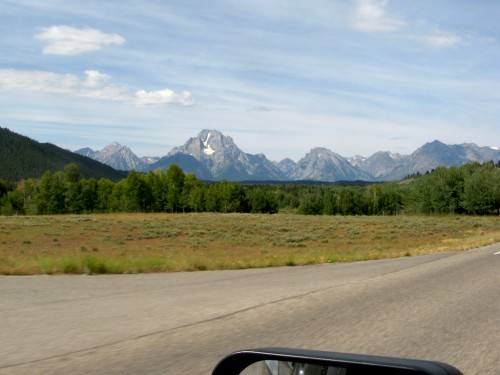 And you don't even have to get out of your car to see 'em.
The other is that in order to get from Victor, Ida. to Sheridan, Wyo., no matter what the fastest route goes through Grand Teton and Yellowstone, which becomes somewhat less cool when all 50 or so miles grinding through Grand Teton look like this: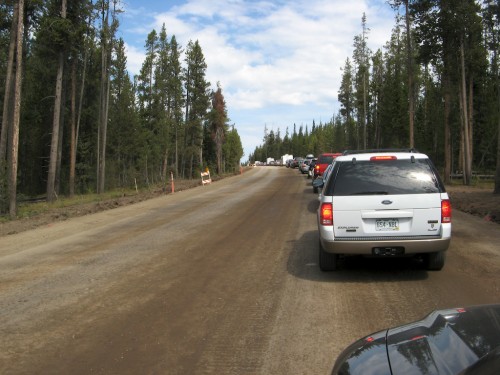 Fine: not quite *all* 50. But pretty close. And it'd be nice if there were a highway somewhere in this country that wasn't being re-surfaced.
It's also repeatedly disappointing that people don't understand that when they're driving slowly through national parks, you're supposed to use the pull-outs. I think it makes complete sense to be doing 20 under the speed limit while driving through Yellowstone — but if there's someone behind you, get out of the way. OTOH, I got to practice tailgating and high-beam flashing quite a bit, so maybe I should just be glad for the experience.
Once I escaped the parks, it was a pretty easy shot over to Cody, Wyo., home of the Buffalo Bill Historic Center, a museum that sort of tells the story of the West. They have, for instance, the biggest collection of firearms I imagine could exist under one roof: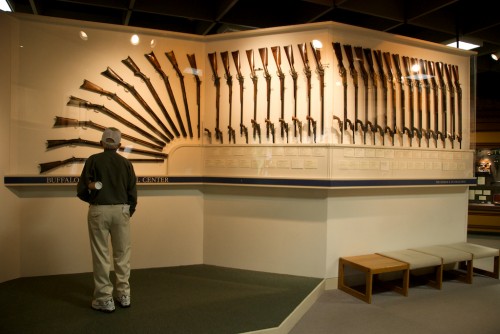 Then multiply by 48.2 to get the full effect.

The great thing about the firearms wing of the museum is that you learn that you don't know anything about the history of firearms. I figure learning what it is that you don't know is probably about as important a thing to learn as anything. Museum also had big exibits on western art (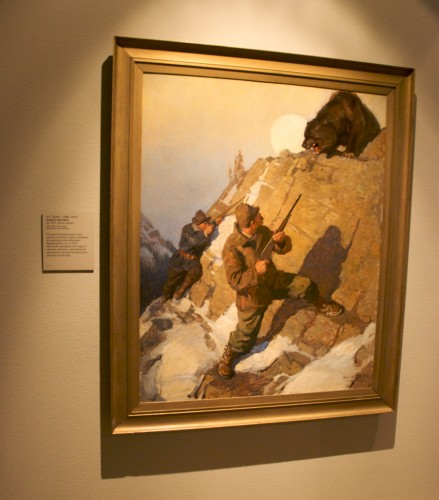 No, I don't know why I wouldn't have taken the photo straight-on.
), the Plains tribes of Native Americans, the life and times of Buffalo Bill Cody, natural history of the West, and a temporary exhibit on Lewis and Clark. I liked that the museum was unapologetic. The displays are all professional and the write-ups show the sort of scientific detachment you'd expect from a museum, but there was no sense of emotional manipulation around any of it, which could have been easy to do from a number of directions. It's a solid half-day museum (but kind of expensive: $15/adult).
Oh, also: I had some fantastic New Mexican food in Cody. No photos and I can't remember the name (there's only one New Mexican restaurant on the main drag in Cody), but it was pretty fantastic.
From Cody you have two different ways to get to Sheridan: 14 and 14A. Supposedly 14A is prettier, so I headed up that direction. The road goes through Mormon flat-land farm towns for a while, but eventually takes a sort-of dramatic turn and heads up into the hills.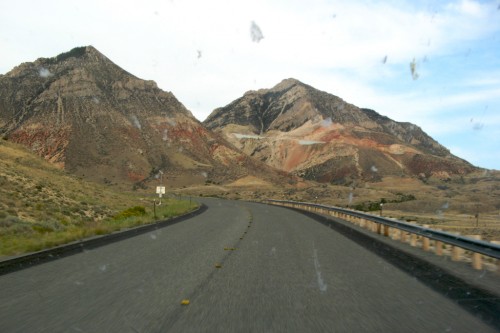 As always, I think the bug splatters make the photo.
It was pretty, winding, and steepish. Would probably make a fantastic sled hill in the winter. It got up high enough that there was a patch of snow next to the highway in one spot. Near the top, there's a turn-off to go visit the Medicine Wheel. After driving a mile and a half off the highway to visit it, though, they inform you that you can't use the road that goes to it and have to walk the last mile and a half. Feeling used, I declined.
Driving down out of the mountains, I encountered family after family of deer, most of whom were galloping single-file across the road at inopportune moments. The three closest calls I've ever had with deer came within about a half-hour of each other on this little stretch of road. It's like they have this death-wish. And it probably doesn't help that they built fences on either side of the highway such that the deer appear to be trapped on the road. OTOH, if they'd just stay *off* the asphalt.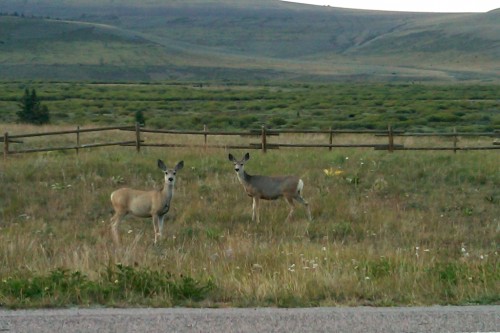 Bambi's mom: none too bright.
And it's good to know that my brakes work. By the time I got off the hill, I was getting pretty mad at the road. I think an hour a day of winding mountain roads is plenty. Three or four hours is probably too much.
Finally rolled into Sheridan a little after 8 PM, got to my brother's house, and had some leftover beef stroganoff that was really good. Pretty tired, though. I appreciate roofs and permanent structures now more than I used to.
bkd