Harney Peak Loop Hike (Day 50)
The peak was cool. Tallest peak between the Rockies and the Pyrenees, they say (7,244 feet!). The loop hike itself was not as cool. Hint: if you're going to hike to Harney Peak, take the shortest route possible. Don't think you're going to get extra credit for taking the long route. You just get more horse manure to walk through (or around — you can walk around it).
Not really any photos of the hike on the way up, since there wasn't anything to take photos of. I mean, trees, horse scats, but — yeah. Not big trees, just trees. Five to seven miles of trees each way.
Peak: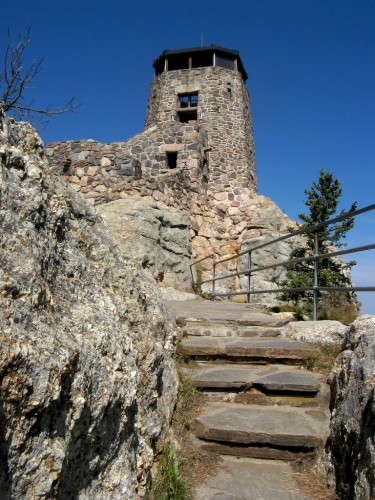 There's a fire tower at the peak.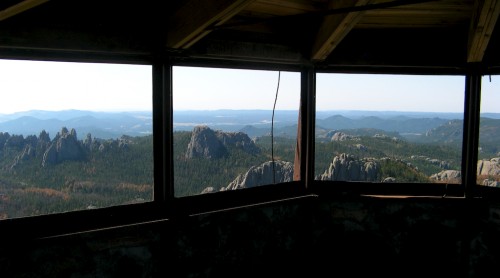 No fires!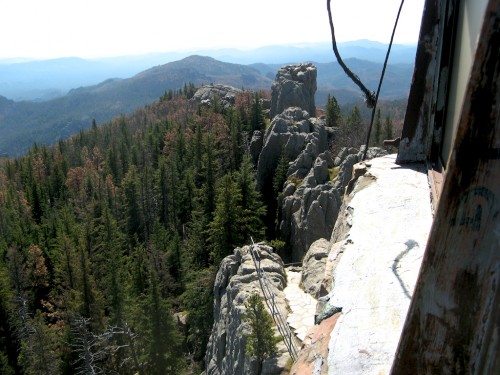 No fires this direction, either.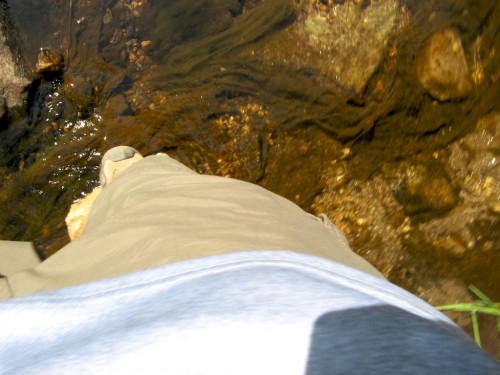 This is what it looks like when you try and photograph yourself crossing a stream.
The hike is probably worth it if you go the shorter route.
The shorter route would have you starting at Sylvan Lake. You can make a loop out of it by going back by way of Little Devil's Tower.
Any book that says that the loop starting from Iron Creek Horse Camp and returning via the Grizzly Bear Trail results in a hike of 10.5 miles is off by 2-4 miles. No joke.
As much as I love horses (now), it doesn't seem right that 3% of trail users get to befoul the trail for the other 97%.
The trail on the way back down was marginally more interesting because of all the calcite flakes that were in the dirt — it was like someone had spread glitter on the entire return leg of the trail.
Calcite flakes don't photograph well.
I dunno. I don't like hiking for the sake of hiking. Frex: no worthwhile hike should deliver you to a parking lot two miles into the hike. Plus, aside from the peak, seems like you get better views of better rocks by driving the Black Hills than by hiking them. You know, from what I saw.
Hmm.
bkd