Jewel Cave, Crazy Horse, and Mt. Rushmore: South Dakota Tourism's Holy Trinity (Day 49)
I'm guessing many South Dakotans have never heard of Jewel Cave. It's only the world's second-longest cave supposedly.
Descent into Hell! (Er — *ascent*.)
Me with two of the three Filipina-Canadians who kept wanting to take pictures of me for me. If only I'd known they were kind of cute… Oh well: it's dark in the cave.
Three things I learned from Clint, our cave tour guide-ranger:
Even though you don't see any electrical wires in the cave, there are electrical wires going to all the lights they have set up.
Jewel Cave is a "National Monument" because it's focused on one feature (the cave), whereas Wind Cave is a "National Park" because they have stuff above ground, like bison and such. (And Crater Lake is a "Park" because…?!)
No one ever considered using Jewel Cave as a fallout shelter, but it probably would have been a good one (this was my question).
From Jewel Cave, it wasn't too far to Crazy Horse (20 miles?), the stone carving that — well, the photo tells most of it: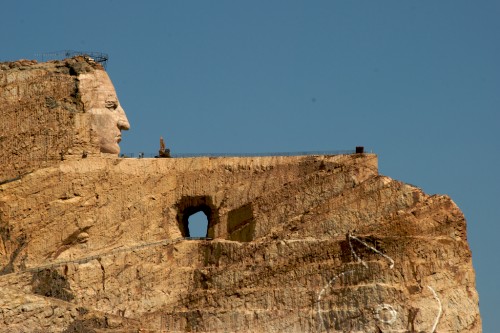 And it's only taken them 61 years to get this far!
The displays at the viewing center and marginally interesting museum make a big deal about the fact that this memorial will be much, much bigger than other memorials like Mt. Rushmore, the Washington Monument, the Pyramids in Giza. One crucial difference, of course, being that THOSE WERE ALL COMPLETED. Ah well. (Actually, I guess Rushmore was supposed to have all their torsos also, but whatever.) Maybe four or five more generations will get it done.
And then from there, it's just a quick shot over to Mt. Rushmore!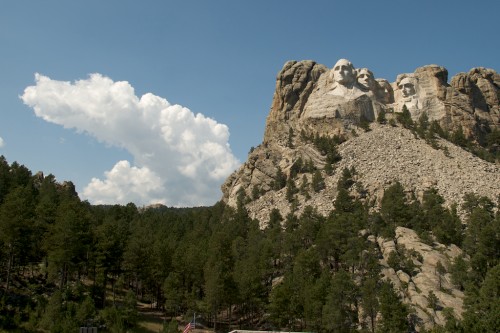 No North-by-Northwest tours are offered.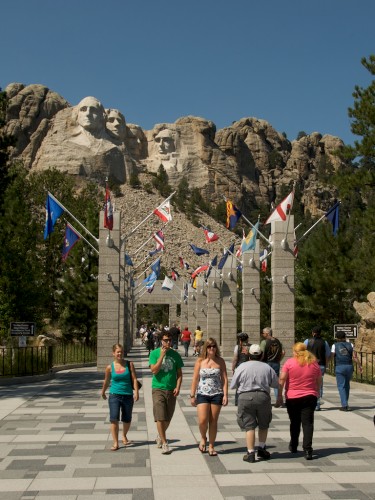 A flag for every state!
While I generally consider the carving of big granite mountains into the likenesses of dead white men a good thing, I don't think the two on the right belong in the same living room as the two on the left. Heck, Abraham Lincoln presided over the greatest tragedy in American history (and people act like that was a *good* thing). All Roosevelt ever did was start the National Parks system. Seems like an appropriate way to honor him for that would be to name a national park after him. They did already? Well that should've settled it then.
IMHO, plainly.
bkd