Miner's Castle Is Major Awesome (Day 57, Part 2)
Drove across the U.P. to Christmas, Mich., where I got a campsite for the night, then headed out to Munising (a town!) and then Pictured Rocks National Lakeshore to see what was there, half-way intending on finding it to be lame and then leaving first thing in the morning.
I found out Pictured Rocks National Lakeshore existed by going through a list of all National Parks Service properties on Wikipedia and seeing that this one looked kind of pretty in the pictures, plus somewhere in my mind I thought I remembered someone telling me that the "claw part" of Michigan had something worthwhile about it. Turns out that real life is prettier than the pictures, most especially *my* pictures (in this case). IMHO.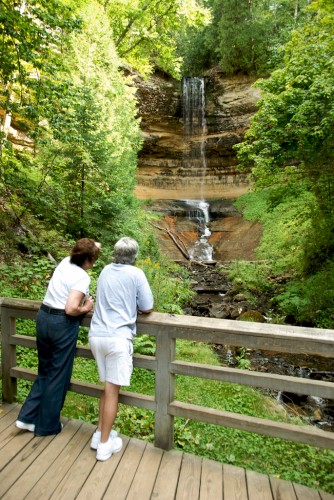 See that there? And if you squint hard enough, you can almost see a waterfall!
So Munising Falls wasn't the good part. It was close to town, though, and thus got visited. The next site down the line was Miner's Castle, which was recommended by RS's Reader's Digest book.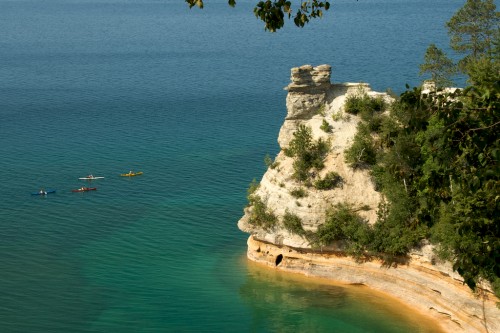 The Miner's Castle; the miner himself may be in one of the 'yaks. But probably not.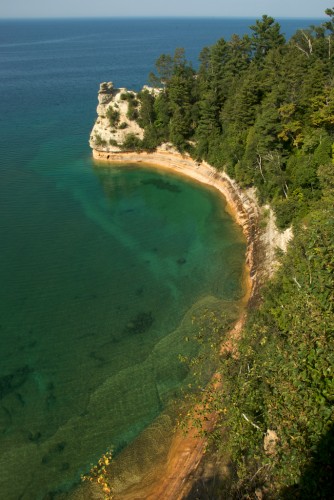 Sans paddlers.
Was mostly struck by how pretty the water was. Looked like something you'd expect to find in the South Pacific, but it was on Lake Superior. Pretty cool. I figured I hadn't seen enough of it and then found what looked like a good 10-miler I could try the next day.
Meanwhile, my writeups get continually lamer. This one's almost *sincere* [shudders]. Only another 68 days of blogging to go (give or take)! Maybe my second (writing) wind is waiting for me in, oh, let's say the Adirondacks. Seems likely enough.
bkd
PS, The campground was an NFS site, so you know it had to be good. It was a pretty big NFS campground (40 or so sites) and privately managed, which meant it was a little on the expensive site for NFS ($16). But: potable water, plenty of trees, and I could do laundry without my neighbors having to watch. NFS campgrounds über alles.