Red Grade Road (Day 46)
Once at my brother's house in Sheridan, the key thing was to sleep in. That accomplished…
I should just start with the second paragraph.
There's this road, "Red Grade Road", that's not far from my bro's house (in Sheridan), which is "in the sticks" (according to my niece), but not as in the sticks as the road. The road turns to dirt quickly and then heads up the hills. It'd probably be a great place to camp on the weekends or snowmobile or fish. Here are some photos: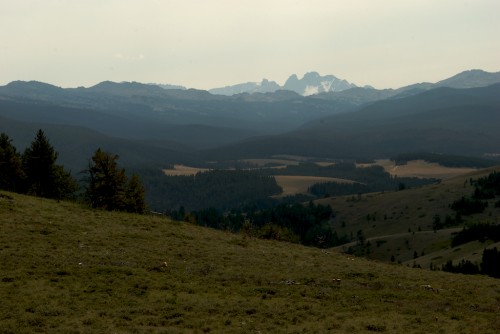 Blacktooth Mountain — supposedly my brother's going to hike to the top one day.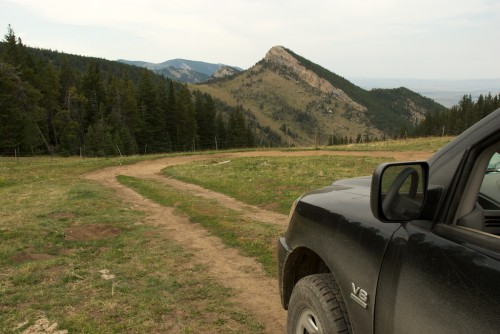 Dirty Truck = Happy Truck. At least, that's my current working theory.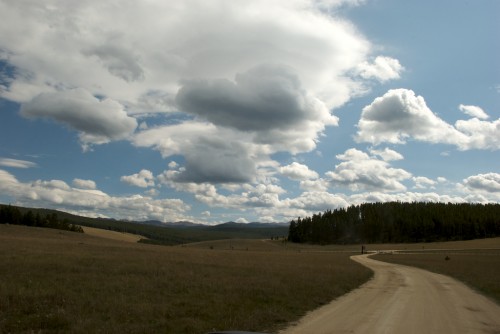 They have clouds in Wyoming also.
The cool thing about Sheridan and the whole area around it is that it looks (to me) exactly like you expect Wyoming to look. Rugged high-country, grassy hills broken up by stands of trees and, in the distance, snow-capped peaks. I've heard it said (or maybe read) that when people are thinking of Wyoming, they really mean Montana. Not so true as it turns out. It would not have been hard to imagine that Big Whiskey was going to be the next town up the road at any point (although I think the movie was probably filmed in Alberta). Anyway — it's a landscape that looks like it needs cowpokes, outlaws-turned-sheriff, saloons, brothels, five-cent whiskey shots, etc., etc. Feels like the West, and not the overrun one like we got in California.
IMHO.
bkd
PS, Sheridan is also cool b/c my brother lives there.
PPS, I enjoyed getting to sign my nieces' permission slips for their first (actually second) days of school.