Sheridan, Wyo.: The Horseback Riding Experience! (Day 47)
— You ever ridden a horse before?
— One time, at a park, with a girl leading it around.
— We'll put you on Sonny, then. He basically rides himself.
Naturally, within 30 seconds of getting onto the horse, he (Sonny) decided to take an unrequested gallop down my brother's street. Only threatening to have him gelded (again) got him to slow down. Things got better from there, though, and no bones or spirits were broken (I don't think).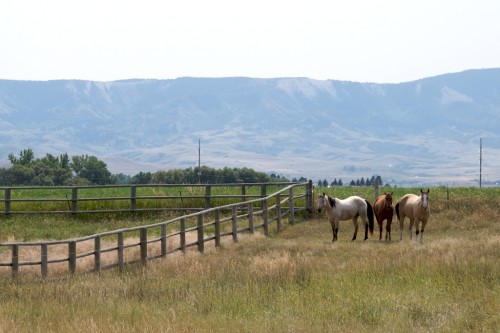 The boys. From L to R, Archie (the loner), Maverick (the one everyone hates because he's a jerk), and Sonny ("the self-riding horse").
It'd be fun to learn to ride a horse for real. The only problem with the guy taking off like that was that it was unexpected; it was otherwise not unpleasant. And maybe if I got good at it, I could justify growing out an un-ironic handlebar moustache. Always dreaming.
We rode for about an hour or so. 36 hours later, my legs are still sore in places they've never been sore before. I think I'm supposed to write out "36" if it's at the beginning of a sentence. C'est la vie. The horses didn't smell bad.
bkd
PS, The other cool thing about Sheridan is that on a clear day you can see FOREVER (not pictured). I can't recall ever having seen stuff as far away as that. In the OC, you're lucky to see the ocean from the beach what with the air pollution and all. (Yes, that's slightly exaggerated.)