Vermont Is a Well-Kept State (Day 71)
It's kind of like Switzerland. Not much is out of place. The campground I stayed at, at Smuggler's Notch State Park, was the nicest, cleanest campground I've ever been to in my life. Plenty of trees separated the campsites, for instance. There were showers and they were immaculate. There was a water feature inside the bathroom. There was a ranger on-site 24 hours a day plus a volunteer host. They sold firewood, kindling, and firestarter. And this post isn't even about the campground.
Which, it turns out, was sort of the best part of Vermont. Ah well.
The campground was located between the town of Stowe and the Stowe ski slopes. Nice locale.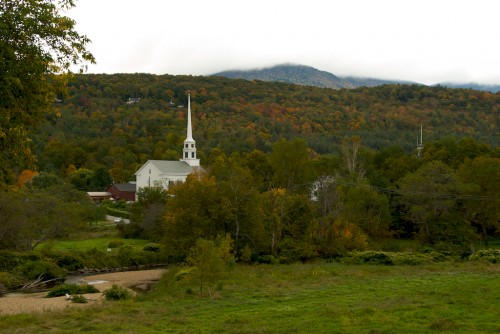 The church in Stowe.
And then these waterfalls are across the street (and then a steep half-mile down) from the campground.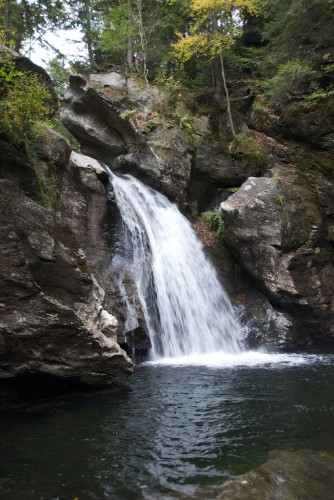 Bingham Falls, named after the copper mine.
Anyway, then I ended up going to this state park where they have an abandoned old town. About a mile into your hike through the old town, however, you begin to realize that there aren't any building there any more or, like, anything to look at. Little River State Park was the name. Avoid it at all costs. I don't think these pictures are as boring as actually being there, though: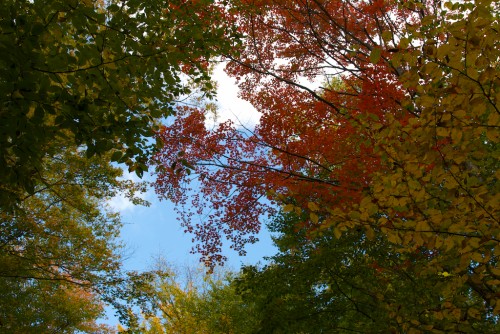 That's right, another photo of leaves. How I've kept my mind is a wonder.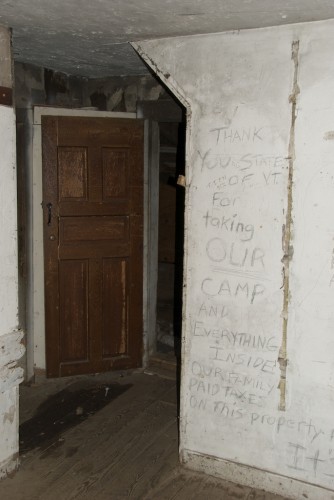 Fine, there's *one* house still standing. For now. And: you mean there's a *down*-side to eminent domain?!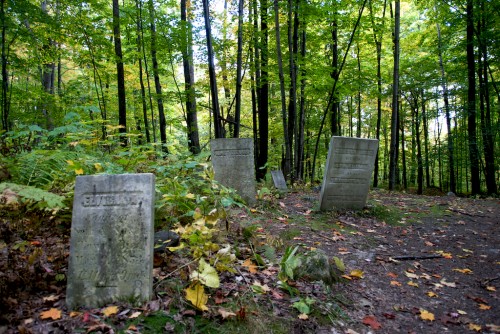 The town's population was maybe 100 and existed for like 80 years, but somehow managed to maintain three cemeteries. Maybe people just died there a lot.
To be fair, I think the park's trails were meant more for snowmobilers than normal people. Is that fair? Whatever.
Spent the rest of the day driving around the Stowe area trying to derive meaning — the next day was going to have better weather, so I was waiting for that before going up into the hills mountains. Tried to go to "Texas Falls", but there was a bridge out at the trailhead. Drove up to Lincoln Gap, but there's not really anything to *see*, just a road and another trailhead. Went to Shaw's, which is the east coast's Albertsons. Bought batteries and brown-and-serve sausage links. Pretty cool. Ate at an expensive Thai restaurant in Stowe. Then went back and luxuriated in the cleanliness (and orderliness!) of the campsite.
bkd