Welcome to [Bug Splatter] York, The Empire State (State #19)
Oh yes, a previous home-state. I paid taxes here once — no, twice! Ah yes. Fond memories of taxes I have.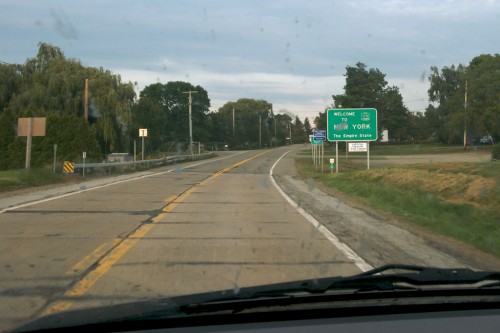 It would kind of be cool if the bug splatter were on the sign. Then again, that would be a very large bug traveling at a high velocity, which might actually not be that cool.
I stayed at a campground at Lake Erie State Park that night, whatever day this was. No idea, seriously. Anyway — was a decent enough campground right on he lake, no need to worry about trees separating campsites (because there weren't any, you see). $17/night, pretty average. BUT there were free showers available, BUT the showers were really moldy. Tough.
I also had a skunk run through my campsite that night that tore through my garbage. It was a little weird listening to a skunk eat stale potato chips, so I put my headphones in. No one and nothing got sprayed, most importantly.
bkd