Welcome to Michigan: Great Lakes, Great Times (and State #13!)
Oh boy, the states are coming fast and furious(ly) now! 'Course, I'm in Chicago at my brother's place all this week, so there will be a slow-down in state-churn for a bit. Ah well, ah well.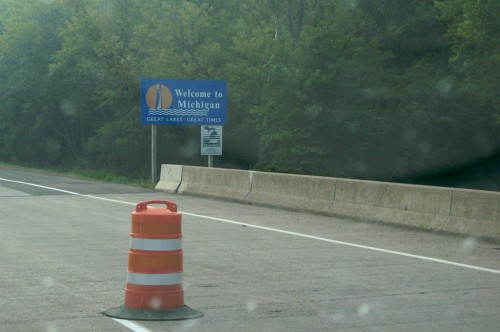 Despite appearances, there wasn't all that much highway construction going on in Michigan. I think someone must have forgotten they were a swing state.
I had some pretty great times in Michigan and there were, by definition, some great lakes, so — yeah. Good job on not over-selling on the welcome sign. Some cool things about Michigan:
Everyone goes 10 mph over, even in 25 mph zones — this was especially amazing after the very cautious driving habits of North Dakotans, Minnesotans, and Wisconsinians.
No, seriously: 10 over!
No "click it or ticket signs" or other nanny-state roadside hallmarks.
People were disarmingly friendly. Like, residents in small towns who know you're a tourist walking through their neighborhood still say hello and seem to mean it.
Granted, I've never been to Detroit, but: it's a pretty place.
More later.
bkd