Welcome to Pennsylvania, State #18
That makes three-eighths (3/8ths) of the way there in terms of states. It's not like I'm excited about blowing through states, just that it happens so I might as well enjoy it.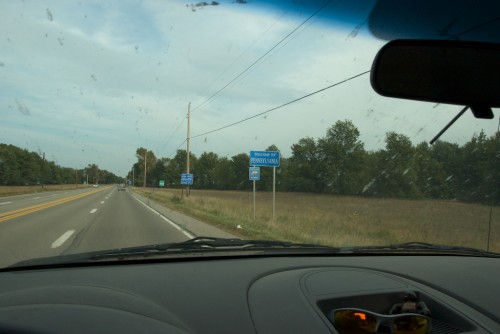 Daylight! Legible! Huzzah!
Someone on some other website told me I should visit Presque Isle in Erie if I happened to be driving through, so I did and I'd sort of like my 40 minutes back, although I took this photo of a lighthouse: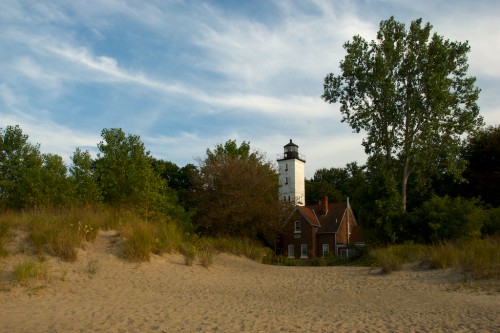 Bravely warning sandcrabs away from the 25-mph park road!
I'm sure real lighthouse people (they have those, right?) could explain why it makes sense to put lighthouses somewhere other than right next to the water, but it'd probably be a long and boring explanation, so — you know.
I'm also now saying that I'm in the "northeast" and no longer in the "northern states". It's a fine line. A fine line that I've drawn between Ohio and Pennsylvania. And it was weird starting out driving in Bengals AM radio country and then traveling through Browns and Steelers territory before ending up in Bills AM radio land. It's also weird how much of AM radio is now on FM.
bkd
And I had this dream last night where I was rafting down a river with members of my family and we got to a spot that looked like a waterfall, but everyone else said it wasn't, but I was pretty sure it was so I jumped out of the raft and then they all continued and it turned out to be a 20-foot waterfall and I called 911 and couldn't quite figure out where I was (I thought I was in Central California in a river near a national park other than Yosemite, Sequoia, or Kings Canyon, but I couldn't think of what that park would be called and then someone helpfully suggested it was "Hehla Park", which meant "holy" in some unknown language, but that person didn't know what he was talking about, so I disregarded), but then it turned out that no one got (physically) hurt, so I hung up.