October 30th, 2009
Comments off
Last military museum for a while. Well — till Texas. That seems like a while, but it'll probably be like a week and a half.
The USS Alabama is a WW2 battleship that was used for five years, then sat mothballed for another 15 before getting towed to Mobile, Ala., where it became a "museum". Sort of the martial-maritime version of the Biltmore Estate, except for the entry fee was 82% less and it wasn't the home/play-thing of a useless trust-fund nerd. If you want to know what a WW2-era battleship was like, this is a fantastic ship-museum. They let you touch a lot of stuff and climb on things.
They also have a WW2-era submarine there, the USS Drum.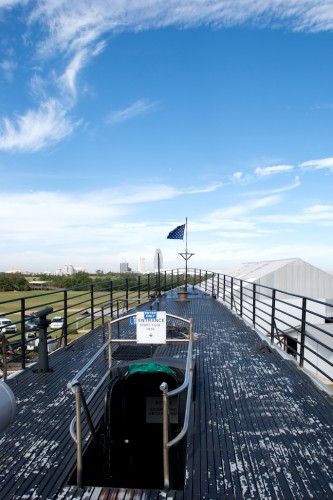 As an added bonus, this photo also shows Mobile's skyline. Seriously, it's there.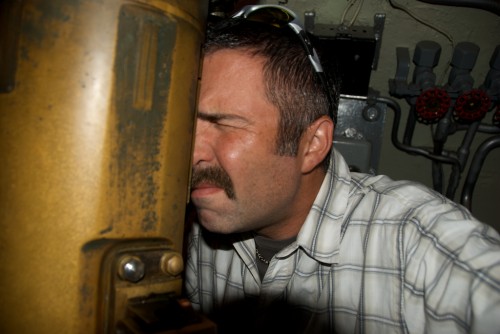 The periscope actually works. You can see the Alabama through it. You can order someone to fire torpedoes at the Alabama, but nothing happens, at which point the fantasy breaks down.
They let you climb up into the conning tower, which is pretty cool. There are also a lot of levers and knobs you can manipulate to your heart's content (depending on your heart). This would've been the greatest field trip ever if I were still in grade school.
Also there's sort of a flight museum. Or at least, there are some planes parked in a hangar there.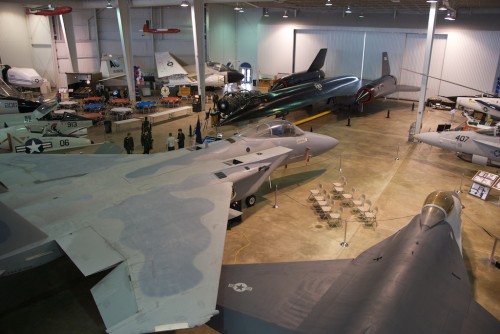 Any color you want, so long as it's gray.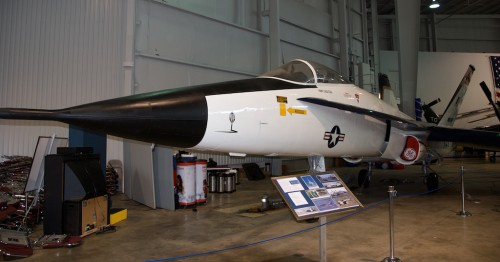 "See that white plane over there? The one that's the only legitimately unique thing we have in this place? Yeah, that one. How 'bout you go ahead and throw all those folding chairs next to it. There you go."
The plane's a YF-17, one of two prototypes that were originally developed for the Air Force, which rejected them in favor of the F-16. Then the Navy needed something small, so had Northrop re-develop it into the F/A-18 that has since grown up considerably to where it's now not small at all. Anyway — nice folding chairs. Hope that airplane's not getting in the way of your spare television set.
Then battleship.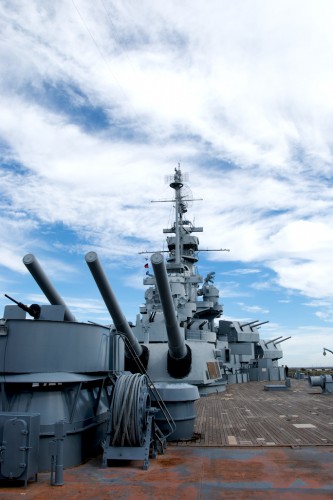 Roll, Tide!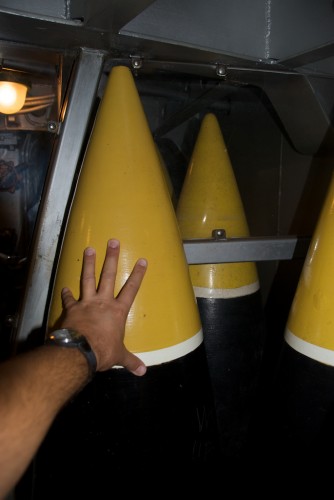 16-inch shells are pretty big actually.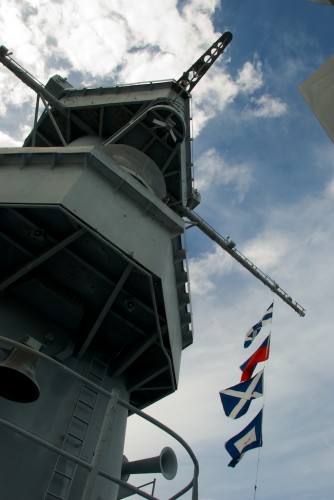 Some day I hope to learn semaphore so I can quit wondering whether a ship is talking about me.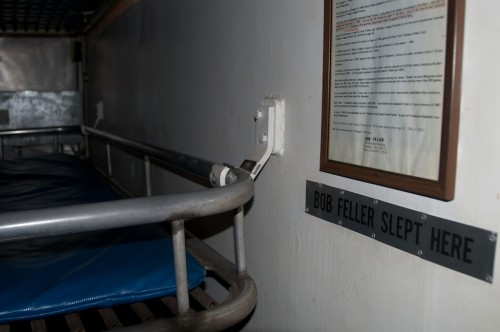 Well he did. And he's basically the Ted Williams of right-handed pitchers.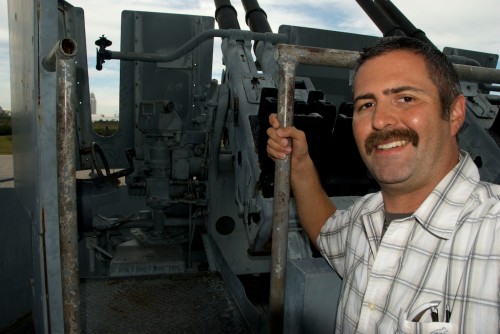 Manning my self-selected battle station.
Other things I feel like typing right now:
The Alabama is a fantastic artifact, especially so given that it was never updated after WW2 and therefore has its 1942 almost completely intact.
Being allowed to crawl all over it is awesome. 

For instance, you can crawl into all three of the sixteen-inch turrets. Never done that before.

Some time I'd like someone to explain exactly what it is that makes up the smell inside a big, retired navy vessel. I'm guessing it's oil, grease, and seawater, but — it's just a guess.
A WW2-era battleship would make for an unbelievable haunted house, I think.
They claimed that the ship went through 1,000 gallons of ice cream a day, despite having a crew of only ("only") 2,000. Raises at least a couple of concerns for me.
The Pacific War Museum is the one in Texas. It's the only one I got left this trip. Sadly. I skipped the WW2 one in N.O. If you've been there and it's great, please don't tell me now.
Thx,
bkd