Great Hamburger #20 from Louis' Lunch and a Photo from New Haven (Day 77)
A couple Great Hamburgers ago, I kind of asked for more gimmick-burgers to counter all the straight-up normal burgers that seemed to be on the list. New Haven provided, and I'll always remember that.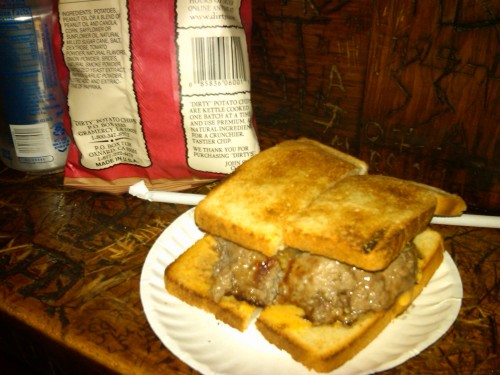 Look at it sparkle!
Truthfully? I liked the Indian food the night before a lot better. Here's the experience in bullet points:
They don't open until noon.
It took 45 minutes from the time I ordered to the time I got my burger.
They cook it in a weird iron contraption, kind of like a sideways waffle iron, four burgers at a time.
Then, yes, they put the meat on toast.
You're not allowed to have condiments. They've singled out ketchup there as their true enemy, but I didn't see any mustard either.
The burger comes with onions and tomato (if you order "works").
When you give them your name as you order, they repeat it several times.
At the end of the day, the experience is kind of like waiting a long time in a crowded bar before eating meatloaf on toast.
And because I took the photo, here's what the gaping maw of Yale looks like: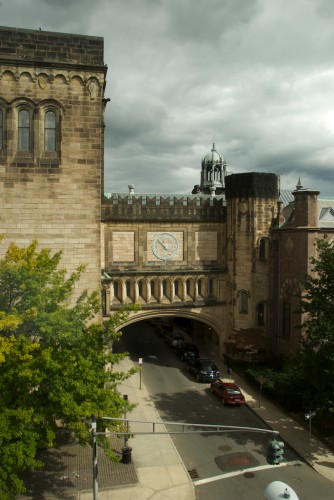 If you look hard enough, you can see Geronimo's skull!
Also, at my cousin-in-law's suggestion, I visited the Museum of British Art. I sort of like British art — they're serious about their landscapes and, as someone who aspires to be a high-amateur photographer, it was particularly interesting to see how they composed their subjects. My favorite painting there was one called The Deluge, which depicts people getting swept up in the (Biblical) flood. Maybe I'll get a chance to photograph that somewhere along the line here.
bkd