National Museum of the Marine Corps and the Great USMC Brand (Day 85)
The US Marine Corps is just like Apple in that they are smaller and more agile than their competitors and have a killer brand. And, sort of like Apple, they *are* their brand — it's not just the sum of logo and tag-line. Everything they do adds to the brand, whether intentionally or not. I mean, the Marine Corps had entire divisions (almost) wiped out in certain World War II battles and instead of burying that fact, they embrace it. It's pretty amazing that getting killed can create positive associations with your identity.
Went to the Marine Corps Museum in Quantico. My favorite part was this: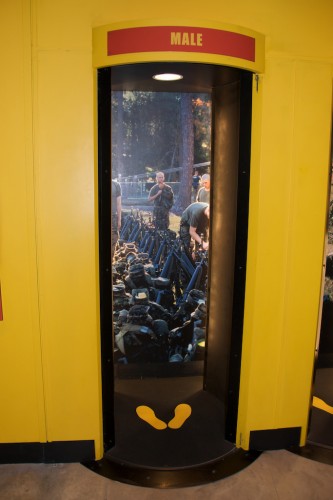 Just step right up and…
It's a drill instructor simulator. You step into the booth and DIs start yelling at you from every direction (well, seemingly — I think it's only from four directions). The crazy part? You know it's a simulator and that you're just in a plastic booth, but your (my?) natural instinct is to do whatever they yell at you to do. I found trying to get my heels closer together, standing up straighter, and, well, worrying about whether or not I was then standing correctly. They kept yelling at me to grab a rifle, but that one was harder. I think I learned more about either myself or human nature in those 60 seconds than I have the whole rest of the trip combined. It was really eye-opening.
Just generally, the cool thing about the museum is, well, (1) that I know more about the Marine Corps than other branches of service so there's more there that I'm familiar with in the first place, but more especially (2) that they make it really immersive with several "simulations" parked in strategic locations. They're not high-tech simulators, but it's enough to let you imagine you're there if you want to. For instance, there's a Landing on Iwo Jima simulator. It sort of makes it look like you're on a Higgins boat and the walls and floor vibrate while you watch a 180-degree movie (actual Iwo D-Day footage) of landing. Then, once you land, some non-com yells at you to move out and the ramp in front of you lowers. (At which point you just sort of walk back into the main part of the museum.)
Also had a Chosin Reservoir simulator, in which they turn the temperature of the room down by 20 degrees (it's still about 50 degrees warmer than reality, but, you know) and have not-quite-animatronic guys in a diarama get uptight about not having enough ammunition. They had a few other vibrating floors also (I think another landing craft, plus one helicopter), but, basically, they want you to feel like you're there and that, well, death is imminent. I mean, that *is* sort of the Marine Corps brand, right?
It was cool.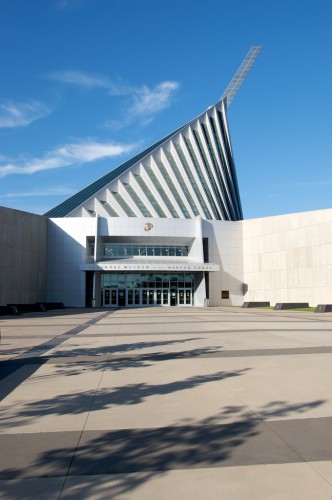 I think they also have some late-mover advantages — the facade is actually *interesting* (whereas the more venerable USAF museum just looks like an airplane hangar — I mean, fittingly enough, but, you know).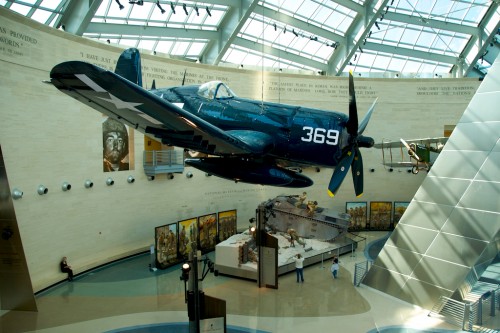 There are a few airplanes in the museum — maybe 15, but at least two of them are Corsairs. No Hornets, no Phantoms, no Ospreys.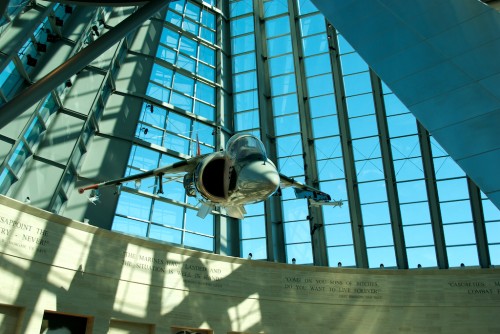 Harrier taking off vertically inside the museum.
The other cool thing about the Marine Corps is that if you're somewhat famous and say something positive about the Corps, they'll memorialize you for eternity. Although I was surprised they didn't have that Reagan quote engraved in the atrium — maybe he's on the outs since he let Col. North take the rap for Iran-Contra. Oh well. (Apparently, I need to learn how to turn around when entering atriums.)
It was more fun than I thought it would be, entirely un-disappointing.
bkd