New Jersey –> (State #26)
I don't really know if there was an arrow pointing after "New Jersey". The sign was in tile inside the Holland Tunnel, kind of like at a subway stop, and I didn't really expect to see it there. And then it turns out that there *is* a "Welcome to New Jersey" sign, but it's about eight blocks into the state and I'd already given up on seeing it (I only saw it once I left town heading west — that's what I get for my unwillingness to go more than a quarter mile away from the Hudson).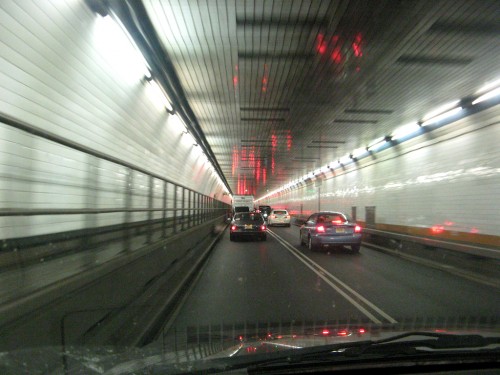 Drivin' under the Hudson.
Most especially, though, I'm proud of finding my way from New Haven to Jersey City without having to pay a toll by staying above the Tri-Borough Bridge (and then the Holland Tunnel is only tolled when you're going *into* the city). Also, the hotel I stayed at in Jersey City (Holland Motor Inn) was a pretty good deal — free parking!, big rooms, seven-minute walk to the PATH, and $30 cheaper than the shared-bathroom places in the city.
Anyway,
bkd