Oh, Sweet Liberty, Let Your Bright Flame Shine the Heck On! (Day 78)
If I weren't still sick, I would probably hold back, act circumspect, and shine bright, happy lights on the events of Day 78. But I *am* still sick, therefore: visiting the Statue of Liberty is the national monument equivalent of waiting 45 minutes to get fried meatloaf on toast.
You need a reservation to see the crown or pedestal.
Crown reservations must be secured two months in advance (the next available was December 11th).
When you get to the boat, you have to go through TSA-style screening.
Then you have to wait for the boat.
When you get to the statue, there are no signs telling you where to go for your pedestal tour.
When you ask the Parks Service person where the line is, he'll ignore you because he's just seen someone he would rather talk to.
Then you get to wait in line.
The first line takes about 15 minutes, and then they'll open up the cordon and let people into the next holding area.
This line takes probably 45 minutes to wait through.
At the end of this line, you go through airport-style super-security, where they blow air on you for some reason and act all serious about it.
Then you get to enter the statue — the stairs to the pedestal take about ten minutes, and a self-tour of the pedestal itself deserves about five more.
Then you go back down and get in line to get on the boat to go back.
The boat is slow and, if it's heading to Manhattan, very crowded.
And it's taken you six daylight hours just to get about five minutes of good part.
If I weren't sick, I'd probably talk about the spectacular views during the boat-ride over, but since I'm sick: it was cloudy, the sun's in the wrong place for half the trip, and, on this day at least, there were no Sully landings to break up the monotony. The best part was seeing European tourists at Ellis Island and wondering whether they understood that it's a monument to people who said "Europe sucks so bad that I'm gonna live somewhere else" and then acted on that sentiment.
Meh: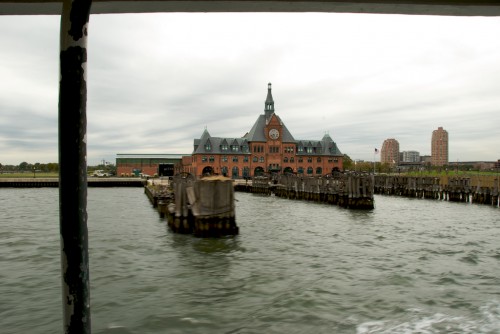 The docks at Liberty State Park. You can choose to depart from NJ or Battery Park. This is NJ.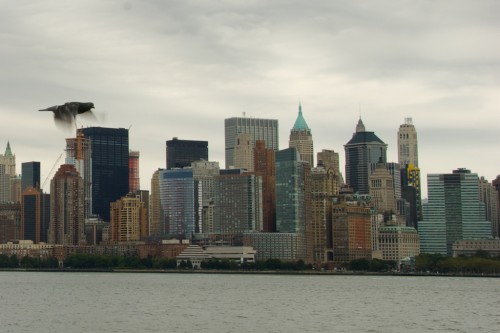 A giant pigeon swoops in to attack the Woolworth Building. (He's already missed the Woolworth Building — next pass, maybe.)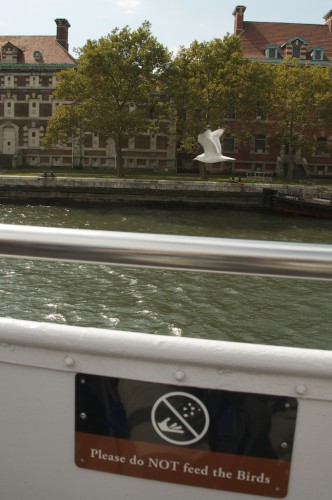 A bird, unfed.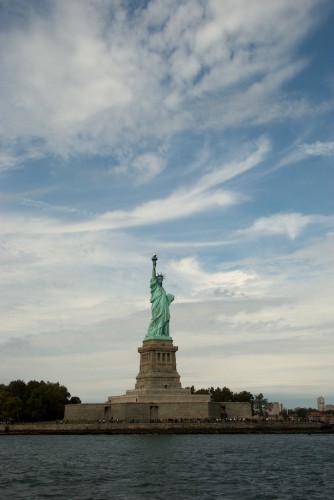 Doesn't look so big when you compare it to the *sky*, now, does it?! (Actually, it doesn't look that big when you're anywhere near it, either, IMHO. It's barely even taller than the Colossus at Rhodes was.)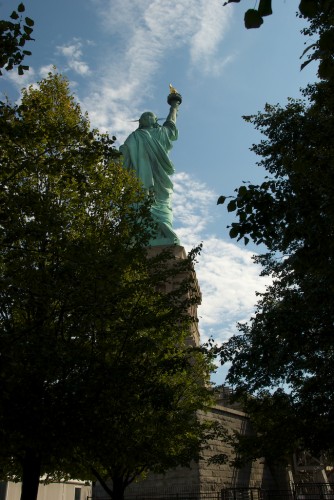 The backside of Liberty.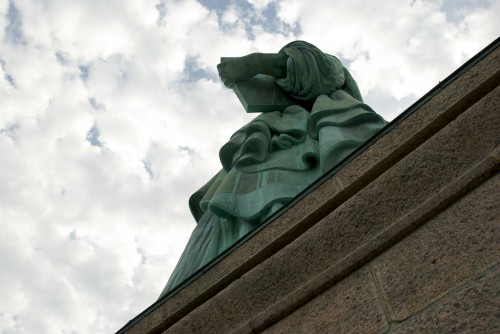 Looking up her skirt reveals little of interest.
I also took about 30 or 40 photos of lower Manhattan and the SOL with some sort of aircraft in the frame so that I could make (more) jokes about stuff crashing into other stuff. It *is* amazing how many aircraft still buzz around that place (mostly helicopters and MD-80s).
And this is the house I used to live in: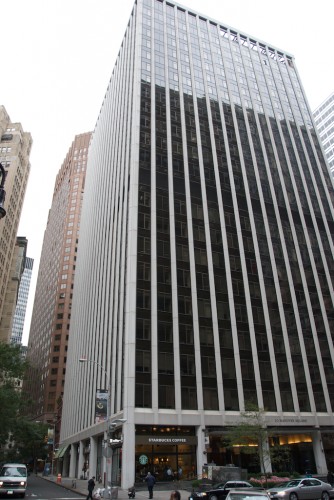 I was in apartment 9-V — you know, like the battery.
But most importantly, I can check the Statue of Liberty off the list. And to all a good night.
bkd
PS, The worst part of the SOL experience is that it stole so much of my available NYC time (and virus-depleted energy). I blame the French.