Rouge Burger (#4) and the Near-Term End of Ground Beef
The whole reason I went to Philadelphia was to knock off another hamburger. I could have knocked off two there, but man: I'm kind of tired of too-fancy hamburgers. One in Philly: sufficient.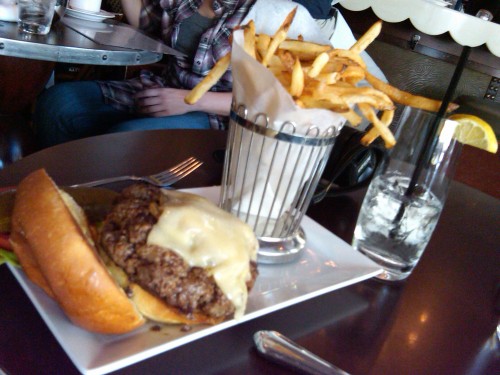 The cheese is so fancy I can't remember what it's called.
I liked the burger better than Peter Luger's — the cheese, whatever it's called, could be tasted, for instance, and the patty didn't break in half, although it's the lumpiest hunk of meat I've seen in my life and too large to be consumed at one sitting. For as stiff as the bun looks in the photo, the bottom half disappeared pretty quickly And the potato ribbons fries were silly — I think maybe you're just supposed to look at them. Sure they're whimsical, but they tasted like over-used cooking oil.
Service was about 6 degrees south of indifferent. Maybe that's how the waitress thinks service in France is. Or maybe it's just hip in Philly to avoid eye contact. I should probably just be happy I didn't get any batteries thrown at me.
And with that, I'm done with the hamburger list until New Mexico (where it'll make a surprisingly strong resurgence — just wait). So, here's my ranking of ranked hamburgers that I've eaten — the, uh, bottom half is filling out:
Miller's Bar – Dearborn (#8 in GQ)
Houston's California Burger – Santa Monica (#6)
Le Parker Meridien Hotel Burger Joint Cheeseburger – New York (#9)
Western Cheeseburger, Carl's Jr. — Western U.S. (Not Rated)
Red Mill Double Bacon Deluxe w/ Cheese – Seattle (#17)
Poag Mahone's – Chicago (#18)
J.G. Melon — New York (#14)
In-n-Out Cheeseburger — California/Nevada (Not Rated)
Keller's Drive-In #5 Burger – Dallas (#10)
Rouge — Philadelphia (#4)
Peter Luger's — Brooklyn (#2)
Burger Joint – San Francisco (#16)
The Counter – Santa Monica (#15)
Louis' Lunch — New Haven (#20)
I threw in a couple of "control burgers" just for reference. I'm probably underrating the Western Cheeseburger, depending on which burger chef is on the line at Carl's that day.
bkd