Smiling Faces, Beautiful Places: Welcome to South Carolina, (Signed) [Political Has-Been], Governor (State #33)
Thirty-three, the tres-tres. Landmark.
I got kind of excited about Mark Sanford when he refused to take the government's bad-idea, forced loans, but then:
I found out he's not much of a public speaker.
He ran off to Argentina with his mistress.
I found out he put his name on his state's welcome signs.
Obviously the third one is the real killer.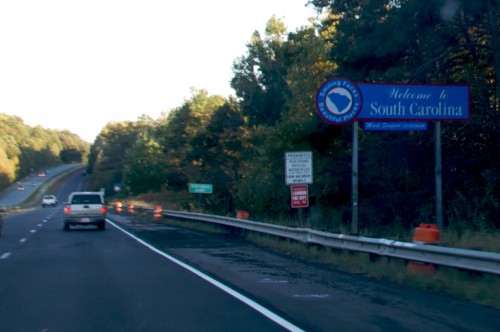 Interstate 26 — it's big in SoCar.
I also learned that a palmetto is sort of like a small palm tree, which usually doesn't ever get over nine feet in height. I think South Carolina is the first state I've been to on this trip where people really seem to get excited about their state flag. It's a cool flag for one thing, but you kind of see it everywhere. Maybe I just notice it more because it's so eye-poppingly cool. And it's on (almost) all the license plates whether folks like it or not, which might also be why it seems to be everywhere…
bkd