Smoky Mountains, Rainy Weather, Ramsay Cascades Hike (Day 91)
It's sort of amazing to me how much weather determines my mood. And you'd think that someone who grew up in the Seattle area would be okay with being rained on constantly, no-visibility skies, and temperatures in the low-50s. Nope. Ah, well.
Picked up my bro in Knoxville Wednesday night, slept in a Holiday Inn Express in Kodak or Sevierville (one may be a subset of the other), then trucked on down to the Ramsay Cascades trailhead in the northeast part of the park. It was an eight-mile out-and-back with a 2,400-foot elevation gain.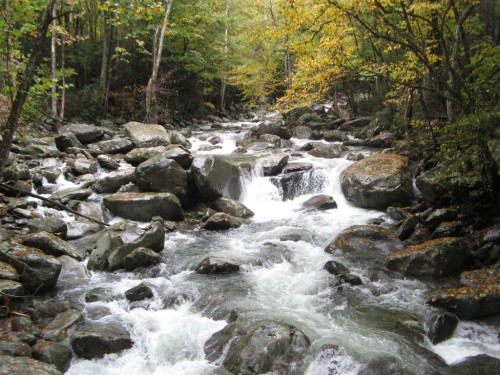 When it rains this much, the Little Pigeon grows up a little.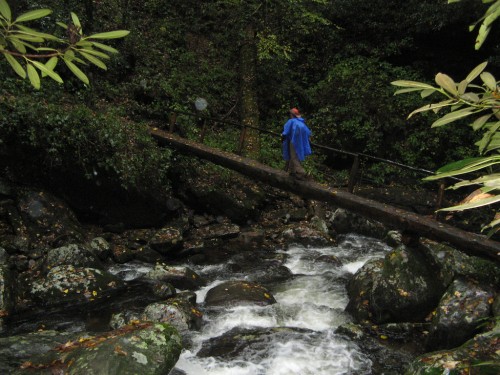 A Telkontar sighting.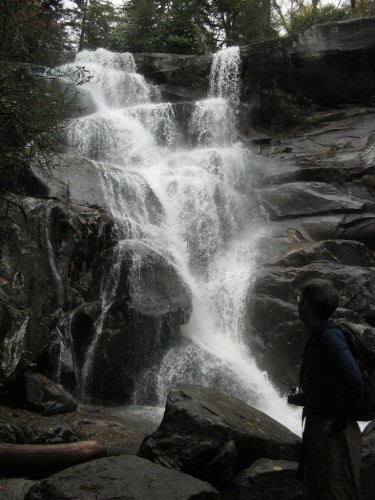 For want of a telefoto lens, the best shot available of the falls.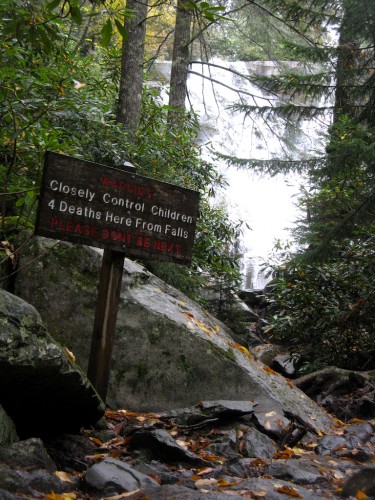 We weren't next.
Wenn von Nebel frei die Bahn!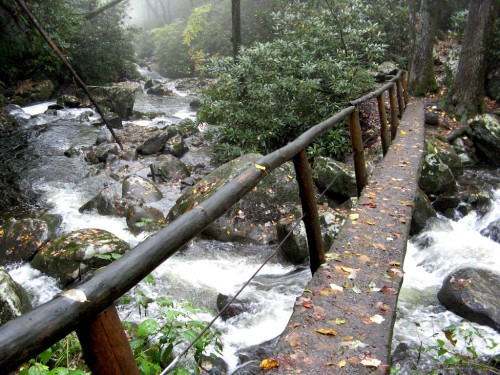 Log bridge on the way back down.
The rivers were awesome and the falls apparently relatively big — I've found some other photos online wherein the water coming off them is a lot less than we saw. I guess the rain *is* good for something. I was pretty soaked — as much from sweat as from rain — but lived to fight another day. Some website designated this trail as "difficult", but that website, whatever one it was, is crazy. Or at least its author has a different definition for "difficult" than I do. Or maybe I'm just in that good of shape.
And then we decided we were wet enough that we didn't need to prove anything by also camping in such weather. Fortunately, Pigeon Forge offers plenty of cheap hotels. Unless you plan on staying Friday or Saturday night.
bkd
PS, I'm staying in the Brick House Campground in South Carolina right now and it is the best Verizon data connection I've had through my MiFi the entire trip. Could some physicist out there please explain?