South Carolina Puts Its Lighthouses Next to the *Water* for Some Reason (Day 99)
Ever wake up in the morning and you can't remember what state you're in? Yeah.
Left Charleston and headed south to Folly Beach. Meant to go swimming, but there weren't showers and I didn't want to spend the rest of the day encrusted with salt. And hopefully you tuned in for lighthouses today, because you're getting lighthouses. Oh — and this: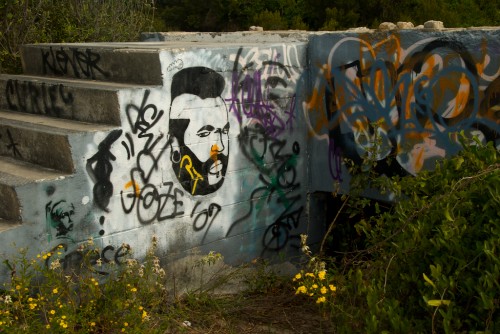 Even South Carolina's fools are deserving of pity.
Then lighthouses.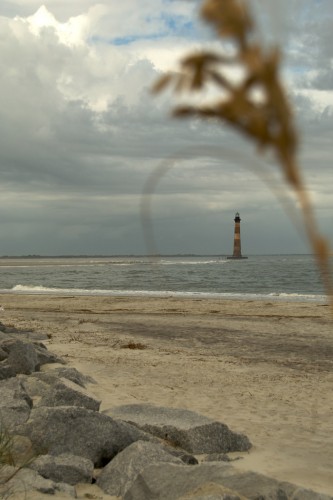 You had to be a good swimmer to work at this one.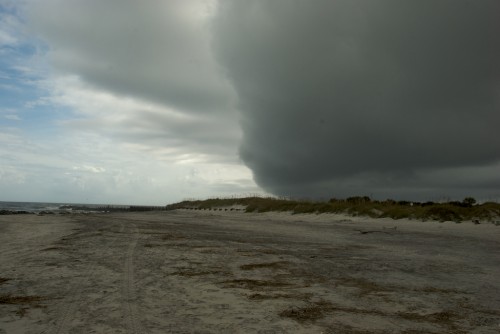 The sky shows off its dual nature.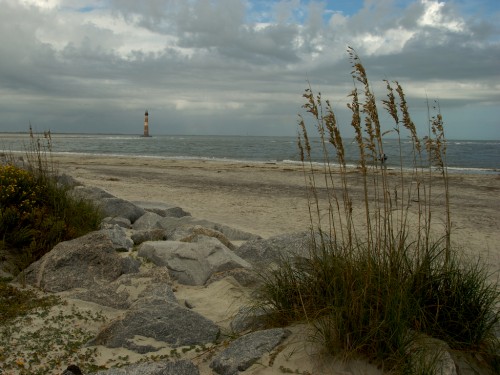 The Folly Island Lighthouse in its full glory.
This was probably my favorite lighthouse so far, mostly because (a) it's still where it's always been and (b) it hasn't been restored. I love ruins and relics and the fact that the top of this lighthouse is rusting visibly just — man. It's perfect. I think there's some sort of "save our lighthouse" thing going on amongst the locals. I hope by "save" they just mean to keep it standing rather than wanting to go all North Carolina and move it three miles inland. Lighthouses should be weathered, not freshly painted. IMHO.
From there, headed south, mostly along the coast, until I got to the Beaufort area. For some reason this is pronounced "Buford". There's a MCAS there and it adjoins Parris Island, whose gate I, well, looked at. They have a state park there that's got the thickest palm tree jungle this side of Guadalcanal. Also has a campground that was utterly full and charmless as well as, of course, a lighthouse.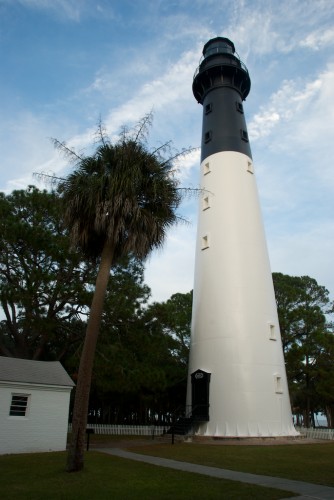 Just because you can't see the water in the photo doesn't mean it isn't close (enough?) to it.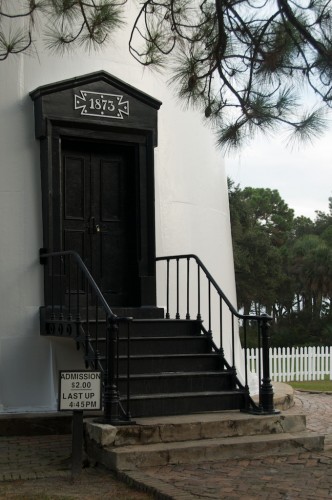 The door to the lighthouse: *way* to freshly painted…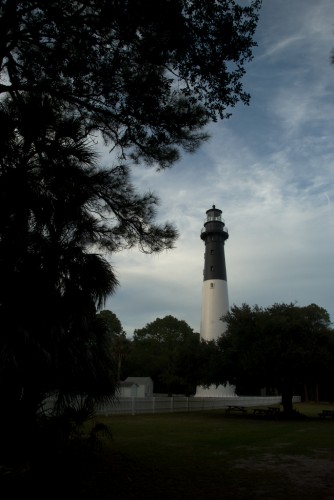 Same lighthouse, different photo.
Ended up going to a private campground to sleep ("Tuck in the Woods" was the name of it). It was very nice and mostly unlike any other private campground I've driven by. The spaces actually had trees around them, for instance. Its owner also recommended a place in town that had very good hamburgers — better than the majority I've had this trip even.
And then I got bit by a bunch of mosquitoes.
bkd