The Graveyard of the Atlantic and Me (Day 88, Part 2)
Rest assured, I didn't not wreck at Cape Hatteras. Just about melted down when it turned out that the Parks Service, in their infinite wisdom, closes down all their campgrounds on the cape (four or five of them) on October 12th though. Real handy. Y'know, a lot of Parks sites keep their campgrounds open during the off-season. Bring in a couple port-a-potties, turn the water off, and lower the price by $5, but otherwise: open. And these are sites that, like, get snow and crap. Or you could just allow beach camping.
And thus started my hate affair with North Carolina.
But hey, how 'bout these lighthouses! They weren't closed, no sir! Not till the next day, at which point, yes, they were to have been closed (or so the rangers said).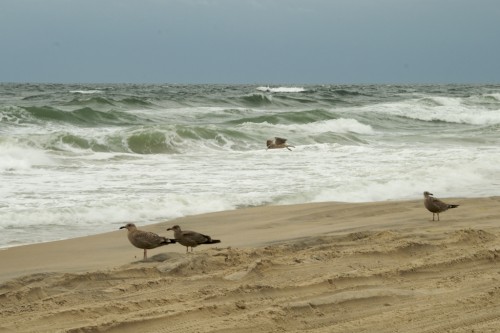 You're right: these are not lighthouses.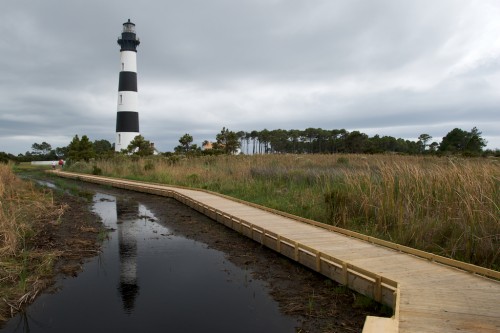 Bodie Island lighthouse. It's only a mile from the water (the *ocean* water). Maybe it was built to protect the ships that were working their ways up the swamps.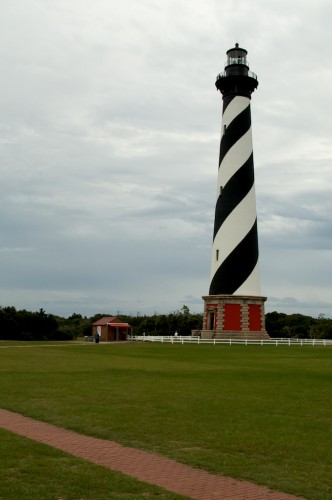 The Hatteras Lighthouse. They have signs that point you to where this one *used* to be. You can still see its old foundation. It's next to the water.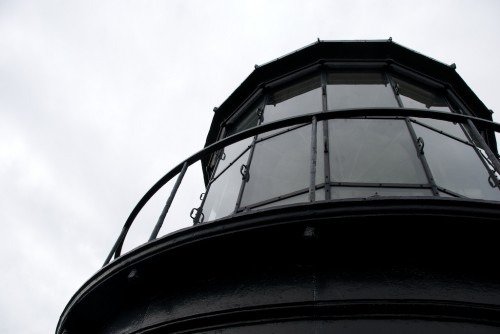 Top of the lighthouse.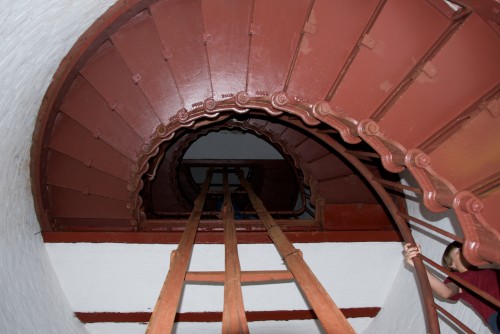 Inside the lighthouse. How trite.
I think moving a lighthouse away from the water is worse than de-clawing a feral cat. I mean, it's still a house with a light in it, but it's not a lighthouse any more. My only remaining hope is that global warming kicks in for real so that poor suffering lighthouses like Hatteras and Bodie can glimpse the water again.
BTW, Hatteras is the tallest lighthouse in the US (if you can call it a lighthouse) and the "tallest brick lighthouse" in the world. The black-and-white is cool, IMHO.
Otherwise, Cape Hatteras National Seashore is just another shoreline. Not nearly as dramatic as Big Sur or Oregon Coast — and I was a little underwhelmed by *those*. There are a few touristy towns there — I'm not sure why a tourist would hang out in Avon, North Carolina, though. Maybe the beaches are nice in summer. There were guys who were surf fishing, which looked like it could be cool, although they didn't look like tourists. And I didn't see any ships get wrecked while I was there — but at least it didn't cost me $55 to get in.
Without NPS campgrounds, I ended up paying $50 to stay at a motel run by a gas station. There were private campgrounds available, but they all looked like they were ruled by feral cats. Not that there's anything wrong with that. As it turned out, the gas station was also ruled by feral cats.
bkd