The J.G. Melon Hamburger (#14) in NYC
I was expecting to go to Louis' Lunch the day before, but it turns out that they don't serve dinner — well, except on some days. Not that day, though. So then I went there for lunch on Day 77, but then by the evening of Day 77, I was in Manhattan and kind of got happy about the idea of going to J.G. Melon since I wanted to walk a long ways and they were open until 2. That's 2 AM, just for clarification's sake. The dinner rush is later in NYC.
I've stopped starting my posts with the first paragraph, but now I think I'm starting with a paragraph that belongs between the first and second paragraphs and should therefore just not exist.
Whatever. I have a cold. I had it when I went to J.G. Melon. I'd also already eaten dinner at 6 (folded-over pizza from that place on University Place, which isn't that good any more). But it was 8:30, I'd been to the Apple Temple, and J.G. Melon had seats available outside (because it was 50 degrees, but whatever — inside looked like the Tokyo subway during the morning commute (but with white people)).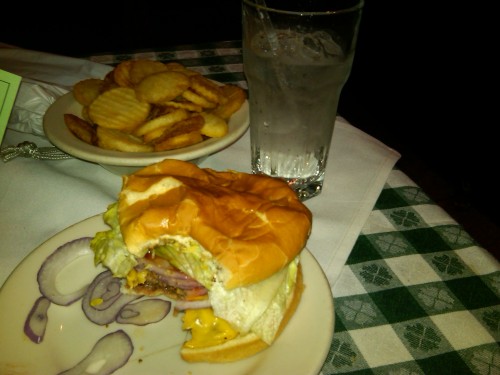 One bite down, several more to go.
The potato chip fries were weird, but pretty good. The hamburger wasn't ridiculously huge — I'm guessing it started out at 6 oz. before cooking, but was solid. They only had Grey Poupon available, so I kind of went mustard-free. But for a hamburger eaten while sick, un-hungry, and freezing to death on the Upper East Side, it was really good.
(Er, it was also expensive — the massive feast pictured above came to $20 before tip. Also, the place only accepts cash for some reason. I guess b/c they can get away with it.)
I was a bit concerned, though, to see that, in an updated article written by the dude who wrote the original 20 Hamburgers piece, J.G. Melon isn't even in the NYC top five any more (because the guy doesn't like the service there any more (?!)). Oh well — it's all about the 2005 reality for me, I guess.
bkd
(PS, If you're calculating along at home, it's Sprite in the glass, not water. Refills are not free.)