Big Barbecue, Broad Falls (Day 118)
A very full getaway day. Starting in San Antonio.
1. Packed up my mobile office and "checked out" of the hotel. I think I left a jar of grape jam on top of my truck when I pulled away. Hope it wasn't messy, but I fear it may have been.
2. Did laundry at a sketchy laundromat in NE San Antonio.
3. Got my oil changed.
4. Drove about 1 1/4 hours to Driftwood. The only thing better than driving on the lonely Farm-to-Market roads was the food at the Salt Lick.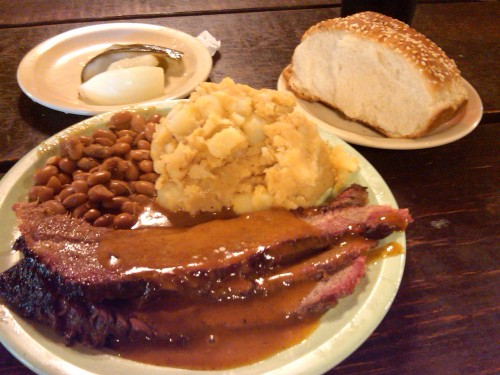 The potato salad is a double portion (in lieu of cole slaw).
This was the second time I'd ever been to the Salt Lick — the first time was three years ago. I remembered it being the best barbecue ever, which of course led me to thinking that I'd probably over-romanticized it in my mind and, thus, that I'd be disappointed. Anyway: it's definitely the best barbecue ever. Probably the best restaurant ever. My guess is that there's something teutonic in their recipes. I could swear there's a hint of sauerbraten in the meat and barbecue sauce. If I ever die choking on Salt Lick brisket, it would have been worth it. This by itself would be worth the trip to Texas.
I bought a t-shirt.
5. Headed out to Pedernales Falls State Park. Wasn't sure I was going to stop, but it was early enough in the afternoon and wasn't sure what else I was going to get to, so after passing the turn-off and then suddenly fearing regret, I went back and entered the park. Worth it.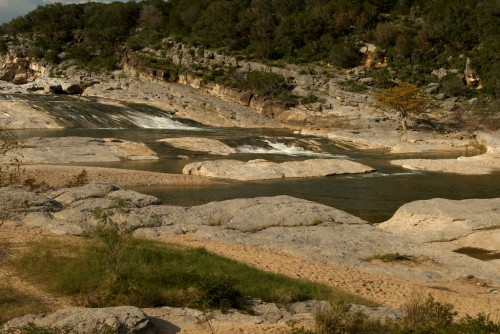 Although I might argue that it's more of a "cascade" than a "waterfall".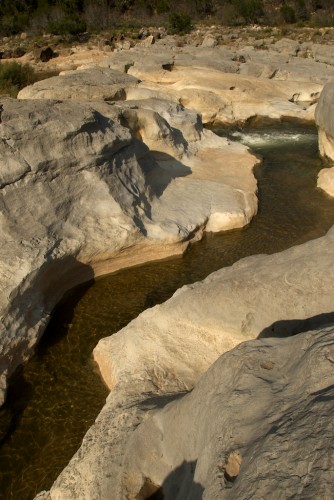 And then the river runs through this maze of rocks.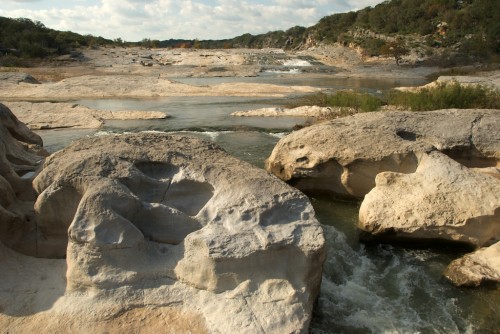 Full-frontal waterfall/cascade.
Plus they let you run around on whatever surface you feel like. It's nice.
6. Drove on to Fredericksburg, but instead of stopping turned up north and drove another 25 miles (or so?) to Enchanted Rock State Park, where I set up camp for the night. Then camped.
Fin.
bkd