Hotel Room Sitting (Day 116)
Another post that exists only because I said I'd post something for every day of the trip regardless of whether or not anything interesting happened. Enjoy!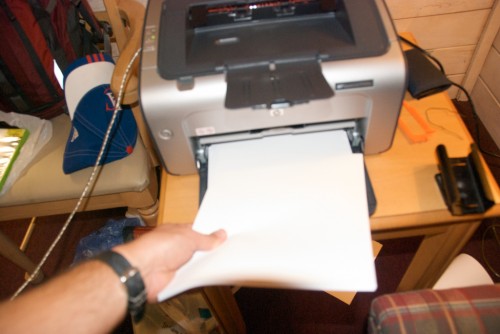 Feeding the beast.
Day 116, I actually printed out recommendation forms, filled them out, then created a bunch of stamped, addressed envelopes for my much esteemed recommenders to use once the time comes.
Oh, also, I kind of forgot that my DSLR was turned to manual focus and that I'd set the ISO to 1600. In case you're wondering why that photo looks as jacked up as it does. Fortunately, it's just a photo of a printer. (Some of my photos from Day 117 hurt a little.)
Also, just BTW, I've been listening to country music ever since I got to the south. It's ridiculously accessible and the product placement in there is pretty priceless. Everyone sounds the exact same, which is another bonus, plus any of the current songs could have been current a decade ago. I mean, no one would've been surprised by them if they'd come out in 1999. Or 1989 probably for all I know.
Ah well. Next year I'll get into… man, there's not much left. Music: done. Probably.
L8,
bkd