Panama City is the worst place this side of Gatlinburg.
Here are pictures of trees, though: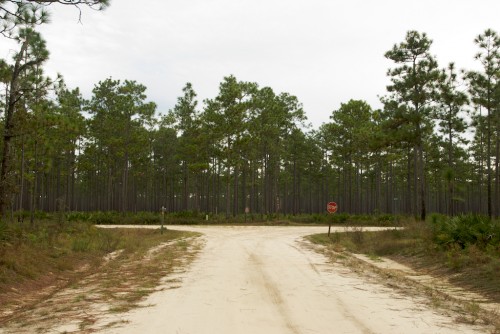 I took the road more-traveled. It went back to the highway.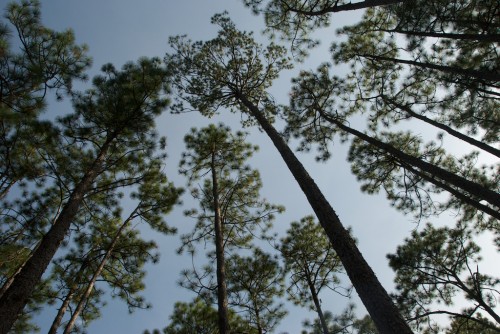 This is what trees look like in Florida (some of them).
So I hadn't seen the area around my campground prior to waking up, given that I'd pulled in way after dark. And that was what it looked like. There was a lake by my campground too, as it turned out, with fish in it. I saw one fish jump out of the water about four feet, fly sideways for a bit, then go back in — and then it kept doing it until it had made a complete circle in the lake. Fish don't do that where I'm from.
And if they try? We stop them.
Went to some fort near the campground also (Fort Gadsden — named after the Purchase guy, not the Flag guy). There wasn't much of a fort there, but the site caretaker's dog ended up being a stalwart tour guide. Hopefully she found her way home once I lost her in the cemetery. And hopefully she's not a digger.
Then I went to the beach. Pretty much all southern beaches look something like this one on St. George Island: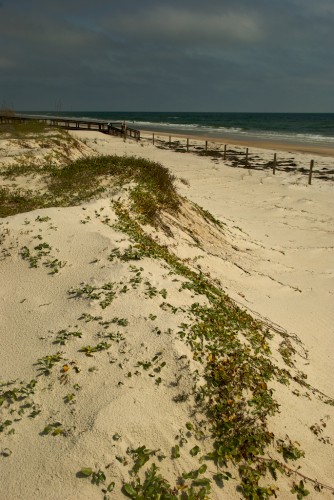 They always have dunes like this.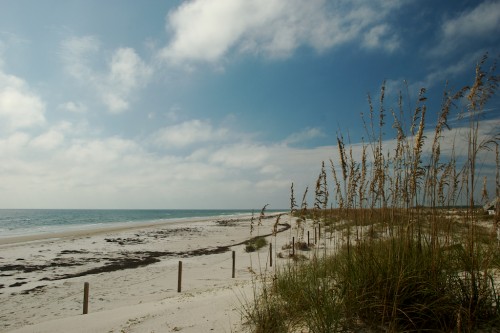 And grass like this to keep the dunes in place (picking a blade of grass results in a $500 fine!).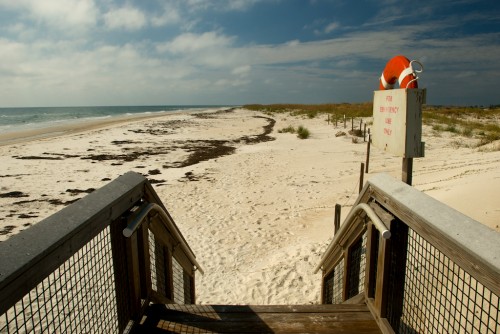 And boardwalks and stairs to get you over the dunes and grass.
Went swimming this time. It's colder than it looks, but warmer than the Pacific on OC beaches in August (not that that's saying much).
After the beach, I turned the truck toward Pensacola — 120 miles from the beach, IIRC, which was about as far as it was from Tallahassee, even though I'd driven 150 miles somewhat west-ish since  Tallahassee. I checked Google Maps when I was still 100 miles away from Pensacola and it told me it would take over 2.5 hours to travel those 100 miles. Because the rest of the highway was littered with strip malls and suburbs-without-cities. Que triste! I'm so pitiable. Anyway: they should probably build a new highway from Panama City to Pensacola, an interstate maybe even. And develop a logo so that we know how brilliant the current government is for paying for it.
And there were an unreal number of Air Force bases along the way. I guess they need to give the hurricanes something to aim at.
bkd