My favorite part of South Dakota was driving these two roads. You see the best parts of the Black Hills (even views of Mt. Rushmore!), get to drive through dynamited tunnels, and it's got interesting bridges: unexpectedly cool. The road goes from about Mt. Rushmore (actually Keystone, a town) into Custer State Park, then heads up north back out of the park to — well, to the park boundary.
For some reason these are called pigtail turns. You go over the bridge, do about 270 degrees, then go back under the bridge. And if I'd thought about it a little more, I would've stopped and taken some better pictures.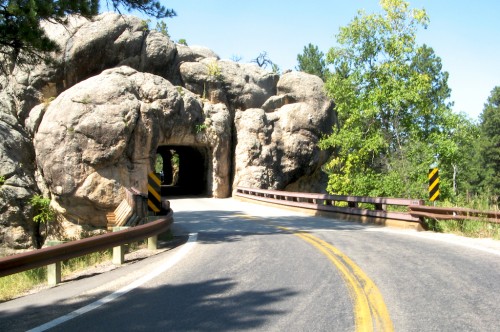 And there are all these cool one-lane tunnels. Not pictured: the tunnel itself frames a view of Mt. Rushmore (but there was traffic behind me, and…).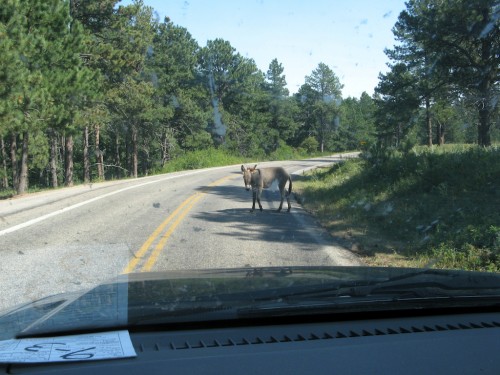 Un burro salvaje!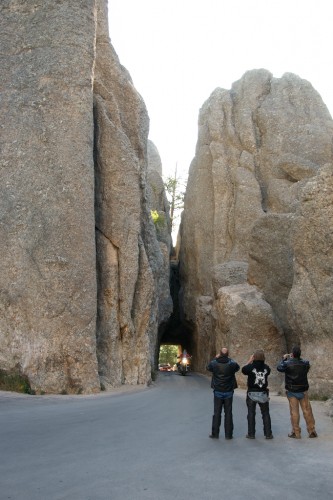 Every biker's true passion: taking photos with a buddy. This was the narrowest tunnel on the Needles Highway — about eight feet wide.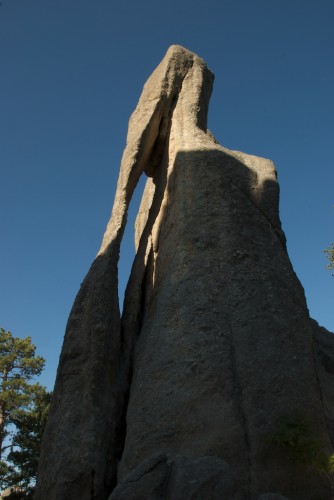 This formation is known as "the needle". It's probably better without the shadow, but I wasn't waiting four-to-eight hours just to find out.
Anyway, point being: cool drive. I think the Black Hills could adequately be covered in a day, though: cave, Crazy Horse, Rushmore, Norbeck/Needles, and you're out of there, heading toward… huh. There's not much else around there. Tja.
Also: the rock formations that are the Black Hills' signature (apparently) reminded me some of the Sächsische Schweiz south of Dresden, except that the "Schweiz" has a big ol' river, castles, old bridges, and very quaint towns in it. Maybe South Dakota could look into adding some of those. (The similarity of the rock formations is sort of uncanny, though.)
bkd