I guess it's never a bad thing to go hang out on an aircraft carrier-museum for a few hours. Well — probably the second consecutive day of it might get old. Never done it that way, though, so I wouldn't know.
I'm starting to realize that Charleston's attractions are merely okay. OTOH, it's been a great, comfortable, *polite* place to hole up for a few days.
That said, here are a few pictures of the same thing each time. (The aircraft carrier is the Yorktown, it was built in 1943 and therefore involved in WWII. Decommissioned in 1970. It smelled like an aircraft carrier.)
Oh, and I forgot to re-charge my DSLR battery, so these were taken with my cell phone, so they're kind of crappy-looking.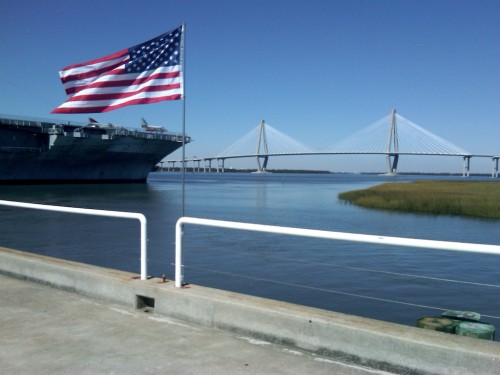 Carrier, flag, Ravenel Bridge (connects Charleston with Mt. Pleasant)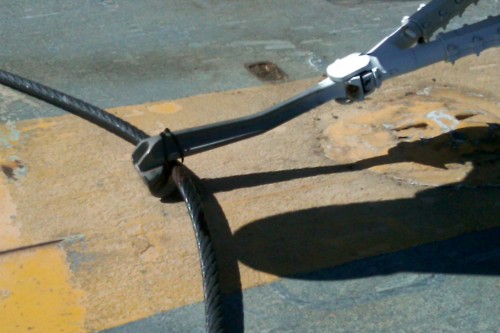 Tailhook, but no scandal.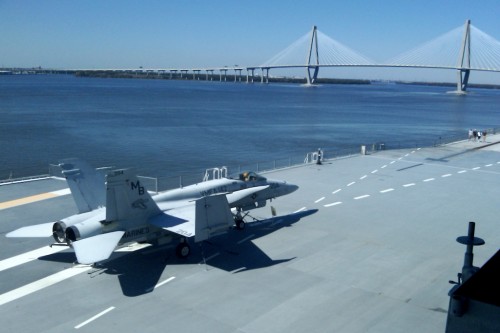 Hornet is go.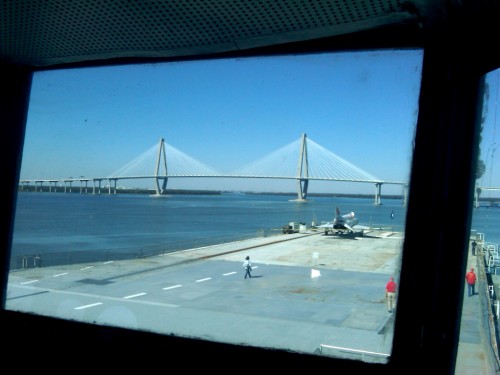 Bridge and Phantom viewed from flight control.
Y'know, I'm not sure I learned anything from this ship. The guy there didn't know if there were any actual F4F Wildcats left anywhere (theirs was another FM-2). Um. They have a Medal of Honor museum on-board, but it was pretty dull. You do (re-)learn that aircraft carriers are big, complex systems there. Got to see the on-board dentist area. There's also a submarine that you can walk through (torpedo room, engine room, officers' rooms, bridge, galley, mess, torpedo room — IIRC).
Beautiful day, though.
bkd
(PS, I *did* learn that Charleston lost their navy base in, like, '98 or so. Still got the AFB, though.)