I meant to stay the night in Duluth, but the Super 8 wanted $70 for a smoking room and the Motel 6 wouldn't answer their phone. So I drove across the river to Superior, where cheap roadside motels were plentiful. But, despite all of them broadcasting "Vacancy" in red neon, none of them had rooms. Supposedly. I guess I could've shaved. Oh well.
So I drove on to the first campground in Wisconsin. It stays warmer at night in states where they have > 0% humidity it turns out. And where you're below 7,000 feet elevation. It was dark when I got there. Slept pretty well. And when I woke up, the campground had waterfalls.
It probably had them when I went to sleep, too, but I have no evidence of this.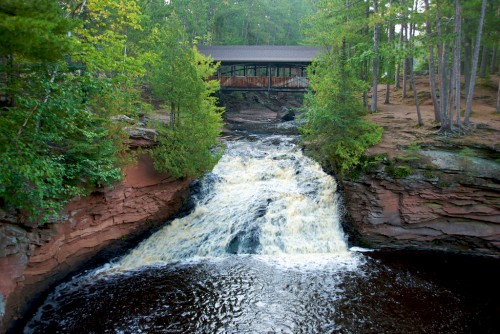 The pool is brown from the tannins!
Nice privacy in the campground — especially when only three of 30 campsites are taken. A little expensive for an out-of-stater ($22), though it wasn't much cheaper for in-state ($16?). Ah well. Cheaper than $70 and less smoky, plus it got me closer to my next scheduled stop in Michigan than I would've been otherwise. Hooray Amnicon!
And then I left.
Went to a Country Kitchen restaurant, though, which had spectacular pancakes.
bkd