That's what the top sign says anyway. No idea on the bottom sign. But check out my windshield!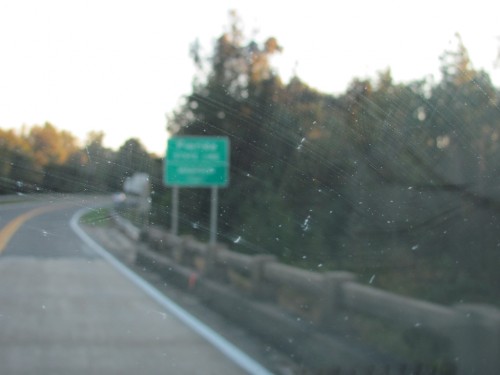 Y'know, one good rain would take care of this problem.
Also had my worst sleep-finding experience of the trip so far on Night 101 (how fitting!). Got to Tallahassee around 8 or so and then drove out to the NFS campground about 20 minutes west of town. Turns out they don't allow camping there — just ATV'ing. No problem. There were a bunch of others in the Apalachicola National Forest southwest of Tallahassee. An hour later, I'm cruising down dark, dirt roads looking for any of three different campgrounds purported to exist there. Three strikes later and I was — oh man, baseball reference fine, but nothing *that* lame. Sorry.
So I headed back down to the coastal highway and it was maybe 10:30 or 11 by then. Figured I'd just stop at a motel somewhere. And then from behind, as is (apparently) southern custom, someone started tailgating me, so I pulled over first half-chance I got so they could pass. Instead of passing, they pulled up next to me and stopped. It was the local sheriff wondering what was wrong. "Just wanted to let you guys pass me," I said. "You sure there's nothing wrong?" I was *pretty* sure. Anyway — they thought there might be a campground open in the next town, 20 minutes down the road. But they were wrong.
There *was* a motel there, though — it was about 11:30. The motel had three cars parked in front of it, but when I got to the office door it said "no vacancy". Sure. Back in the car. Per the map, I could take another little highway through Apalachicola National Forest again and if it didn't work out *this time*, then I'd be back on the 10 in 60 miles. Went up the little highway and found a state park sign that said there was camping there. Unfortunately, past the sign was just a mess of roads and when I found a trailhead that didn't include a campground, I turned back. But on the way back, I saw a sign that said that whatever sand-spur would lead me to a campground. I followed it in and found the campground. Except that it said I needed a permit that I was supposed to get in some town somewhere. Naturally, I couldn't violate the law.
So I headed back out to the highway, but not before getting on my Blackberry to see if I could verify that one of the two NFS campgrounds that Rand McNally said existed actually existed. To my surprise, they both seemed to and I found Actual Directions on how to navigate FS roads to get to one of them. And then I did that and it was a real campground and it cost $3 and it was barely even 1 AM when I went to sleep.
I didn't say it was an *interesting* story.
bkd