November 20th, 2009
Comments off
Slow because of me, not anyone else. Don't mean to imply it's a slow town. Slept in, then drove up there. Tried to hit another h*mburger place, but it turns out that the Bobcat Bite is only open Wednesday through Saturday. Oh darn. I got the impression they thought they were doing the world a favor by existing at all.
Santa Fe itself, however, is considerably less self-important.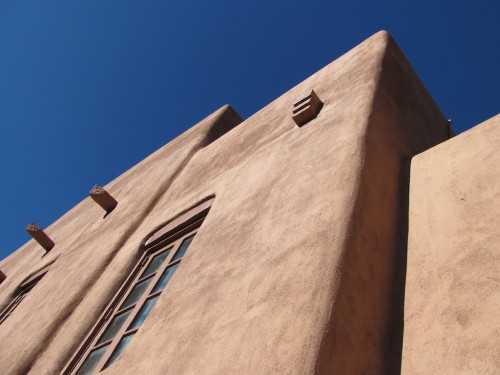 Every building in town looks like this. Or, at least the corner of every top floor of every building in town. And "town" is pretty narrowly defined as well.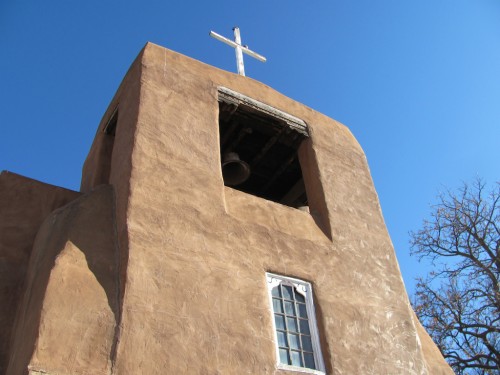 Tower of San Miguel's — oldest church in the USA (they say).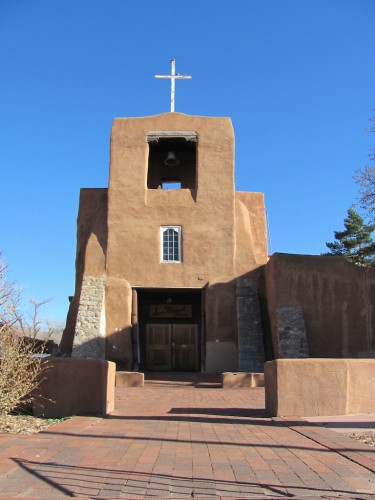 Full frontal of same.
Highlight of course was hanging out with Ian and Melinda at dinner. Went to Tomasitas for New Mexican food, which was pretty amazing. Not that I have a lot to compare them to, but I'm told the sopapillas there are incredible and I sure didn't experience anything that would run counter to that claim.
Also: much appreciation to Ian for letting me crash at his killer pad and indulging me in conversations about old MST3Ks, XCom: UFO Defense (the newer, open-source version of which I played at my campsite last night until my batter ran down), and the sticky nature of owning mere licenses to content. Ian, btw, has written the greatest novel ever, which will be coming out in April.
bkd