I don't really love hamburgers. Seriously. I thought this list of great hamburgers sounded like an interestingly absurd thing to pursue over time. That's all. I do not love hamburgers. I don't find them interesting to talk about or analyze. They're fine. I've eaten 13 of the top 20 hamburgers. If I never get to 14? No. Big. Deal. (To me.) Very over it.
That said:
Apparently there's a San Antonio in New Mexico also. They have this hamburger there, which is #7 on the GQ list: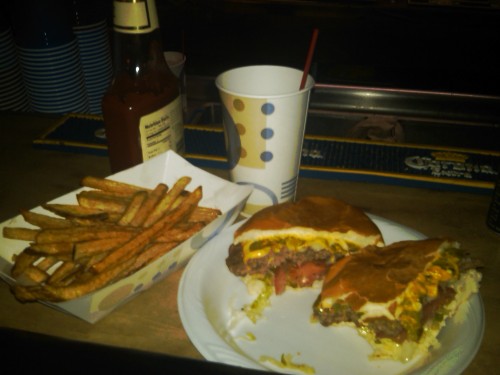 Watch it ooze!
As far as the hamburger goes:
If you love green chilis, this would be the greatest hamburger ever.
If you're luke-warm on green chilis, is still good although you're kind of left wondering whether you'd like it better without so many dang chilis in it.
As for the fries:
What is it with the stupid "house fries" explosion we've seen over the last two years? If one restaurant in 100 sells them, fine, they're okay at that frequency. When everyone does it, they're just limp, greasy potato logs. Normal fries, please.
And the service? How about the service?:
Got there at 5:30 PM. Place was packed, but I was the only one waiting for a table.
Waited to be sat. During the 15 minutes I waited, no one talked to me and the wait staff conspicuously avoided making eye-contact.
When the manager came to the waiting area, there were three parties there. He said: "We should have a table ready in a few minutes". When he recognized there was only one person in my party, he said, "You by yourself? You're going to have to sit at the bar." Is it because I'm white?
(OTOH, by sitting at the bar, I didn't have to wait any longer for a table, so I guess it was win-win (except for all the losing).)
After placing my order it took 45 minutes to get my food.
That's not an exaggeration: 45 minutes.
45 minutes!
Anyway. Decent burger. Avoid Mondays. Won't be going back.
bkd
PS, I like pizza a lot better than I like hamburgers. I don't necessarily want to talk about pizza, either, though, or compile a list of great pizzas. Food: a means to an end. For me.