I'm almost over taking recommendations from Backpacker magazine. Sure, they recommended the Glen Alpine Trail that was outstanding and all that, but they also suggested that Crystal Peak is the one and only hike at Rainier that's "Top 100"-caliber.
That said, they can't account for weather. I'm going to go back and do the Harry's Ridge trail some time in the future. Some time when you can see the mountain and it's not going to start raining on the trail's six-inch ledges at any second. Some time.
As it was, I only did half the hike. It's supposed to be an 8-miler, but I cut it off at the promontory so I could crawl back over the ledge before it got wet. As far as photos go, this is what I got: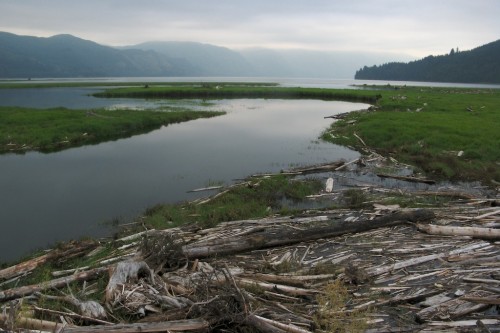 Riffe Lake, along one of the mythical, plentiful routes to Spirit Lake Highway that my GPS (erroneously) thinks exists.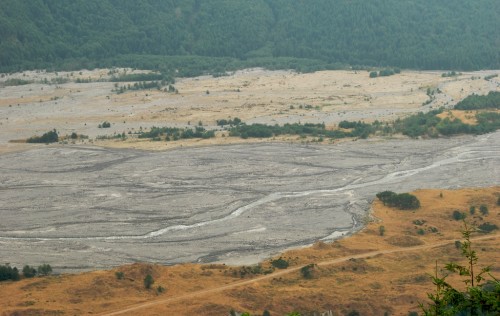 A mountain flowed through it: the Toutle River, pathway of mudflows. Not that anyone cares about some eruption that happened 29 years ago, though. Apparently.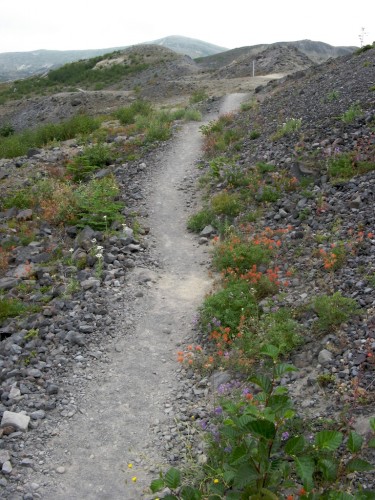 The Boundary Trail: wildflowers, ash-filled desolation, low clouds.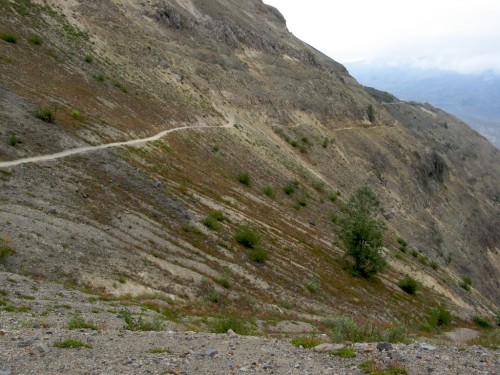 I have to figure out what the problem is with these photos. Either Aperture isn't exporting them with corrections made or else Firefox isn't down-scaling them well. This is a photo of the ledge-crawl part of the trail, just FYI.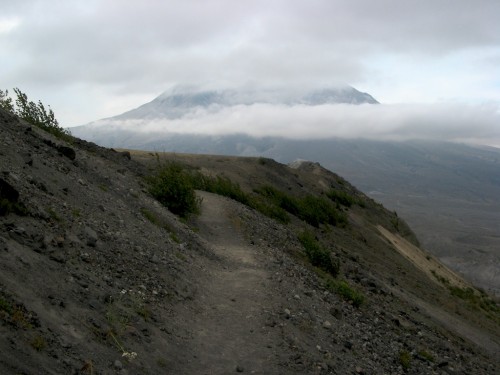 I figure I need to show a photo of the mountain, such as it was visible.
And then it turned out that the world's foremost cobbler restaurant was out of business.
I like St. Helens, I really need to go back on a better weather day. People seem like they've forgotten about this place. Many of the businesses that grew up after the 1980 eruption were shuttered and/or for sale and, you know, I kind of like seeing dilapidated buildings and other such ruins. Wasn't much traffic on the way out there and only a few people were bothering to hike the one trail. Except for the weather — and who knew it could be cloudy in Washington?! — probably pretty nice.
bkd