November 12th, 2009
Comments off
Not a lot to report on from Day 115. Stayed in a hotel in some place whose name has been lost to the ages (just south of Austin, consisted exclusively of motels, fast food joints, and truckstops — "Hillsboro"?) the night before, then woke up and drove to Driftwood to go to the Salt Lick, except that it was so packed that I just pulled on through the parking lot and left. From there, headed down to San Antonio where I got in around 4 and immediately locked myself in my hotel room and screwed around with grad school app stuff, trying to re-remember what I had left to do.
Here's a picture of the rain, though: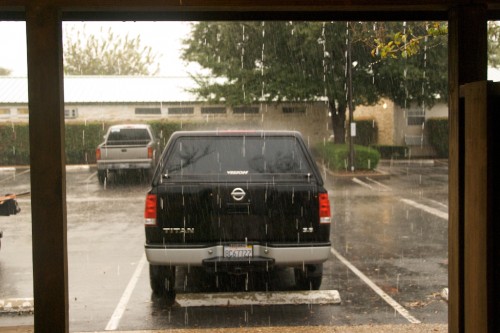 Look at it go!
OTOH, it's nice to finally be on the good side of the Carl's Jr.-Hardees line. Oh yes.
bkd