October 21st, 2009
Comments off
There are two main problems with the Great Smoky Mountains:
They're crowded.
There are too many people there.
Unless you've been slavishly watching Ken Burns documentaries or just really know your national parks, there's some likelihood (that's safe) that you may not know that Great Smoky Mountains National Park is the most visited park in the system. Frex (this was on a rainy weekday in October):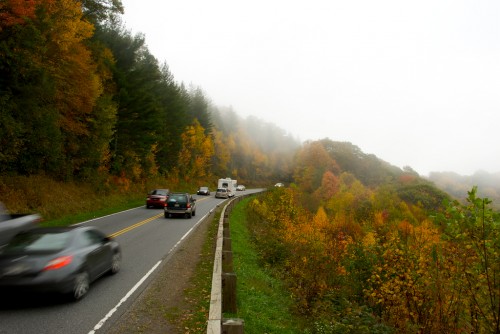 OTOH: fall color!
So here's what I propose to fix the problem:
Charge an entrance fee.
Wipe Gatlinburg and Pigeon Forge off the face of the earth — or just relocate them to some other part of Tennessee.
Most other parks charge an entrance fee. It doesn't make a whole lot of sense to me that every park out west charges $10-20 for a week's admission, but *the* *most* *popular* park of all has no fee at all and also just happens to be overcrowded. I think the parks should be self-funding and to certain extent other parks in the system are. I'm not sure why the rest of the country needs to subsidize the South's park-going (the vast, vast majority of Great Smokies park-goers are southern; those who weren't were generally from Ohio or Illinois, which basically seem like southern states to me).
As for Gatlinburg and Pigeon Forge, the two towns closest to the park on the Tennessee side — man. Here's Gatlinburg in mid-October: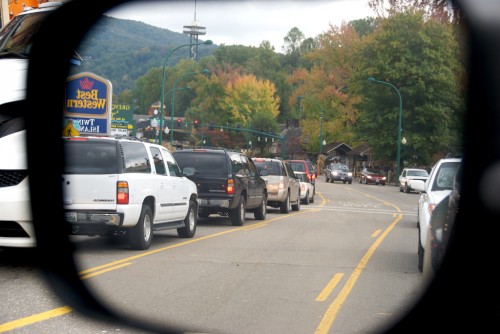 Such compelling strip low- to mid-range hotels!
These towns are some sort of strange haven for the blue-collar white middle-class. I know this sounds snobbish, but — these places are horrible. Overrun with people and their cars, the only thing the towns offer are a(n admittedly curiously) vast variety of miniature golf places and pancake houses. As a result, Sunday afternoon traffic was frequently immobilized from the park exit all the way to the freeway (at which point it moved just fine). We abandoned our hopes of visiting Cade's Cove as a result.
Eh. I guess another solution would be to just never try and visit the park from the Tennessee side, but what fun's that? This country demands drastic, memorable solutions, so: push the button, glass Gatlinburg.
Dropped my bro off at the airport in Knoxville. Stopped *very* briefly in downtown on my way out to take this ill-lit photo: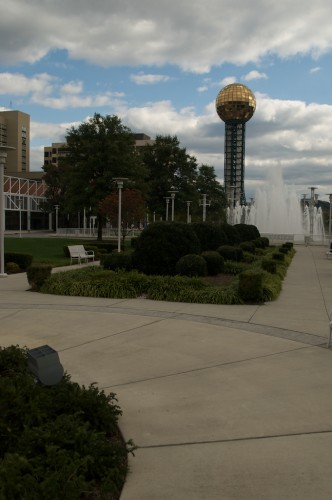 Sweet vestiges of 1982!
Contrary to popular belief, however:
I found no sign in Knoxville welcoming me to the "Wod Fir".
I found no evidence that the Sun Sphere is, in fact, filled with wigs.
I understand that there are the "second Sun Sphere" conspiracy theorists out there, but whatever.
It's not exactly the Space Needle, either, you know? I mean, the thing's all of five stories tall. And you also don't have to drive over sidewalks to illegally park at the Space Needle — I found it mandatory in Knoxville after their direction-giving "Parking" signs led me to a no-parking loading dock with walls on three sides. For as polite as southerners are, you'd think they'd figure out how to make useful, accurate, plentiful road signs. OTOH, maybe if you don't already know, they don't want you to find out.
bkd