Here's how my Day 103 started: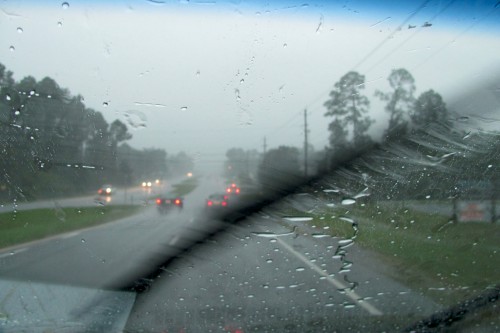 And thus the Blue Angels canceled their practice session.
It supposedly rained like three inches in Pensacola that morning, which seems like a lot. We were the top news on the Weather Channel that day. That's right, The Weather Channel. Which, btw, has some good-looking on-screen personalities.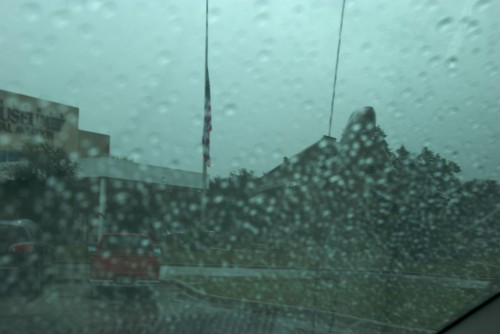 One day I'm going to find a flag that's not flying at half-mast. Maybe.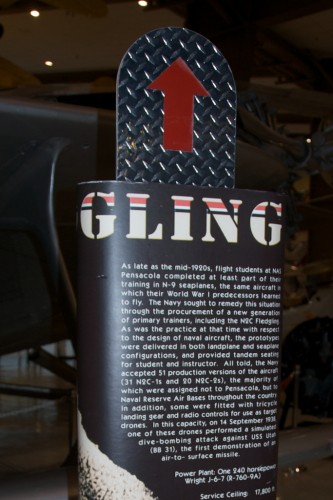 Fiercest of the Navy's 1920s night-fighters: the Gling.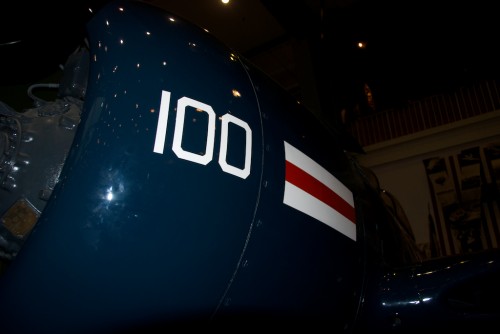 F8F.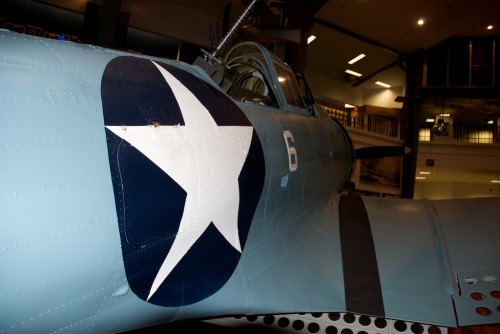 Dauntless.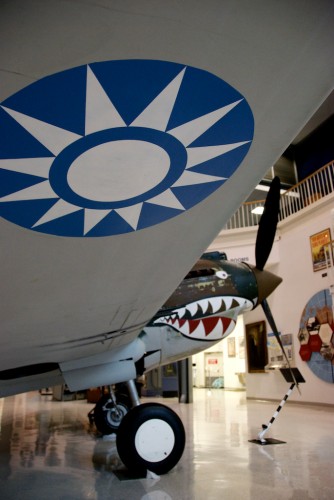 Come to think of it, we may have already been fighting Japan when they attacked Pearl Harbor.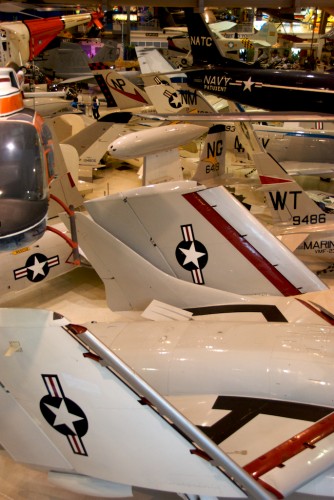 It's like a tails and folded wings convention in there.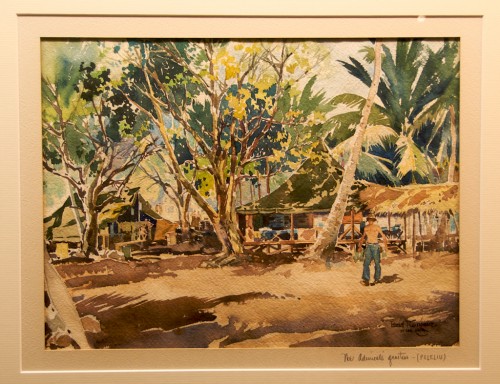 Navy art. I like the composition.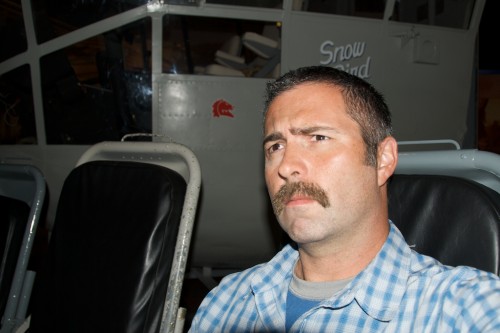 I am deeply concerned about naval blimpery.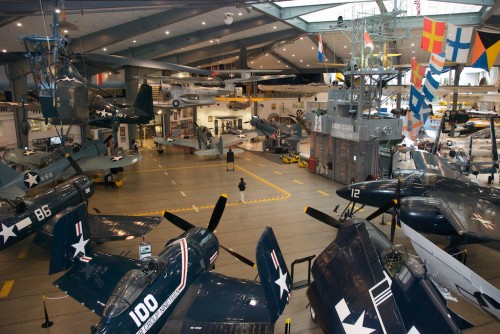 Any color you want, so long as it's navy blue.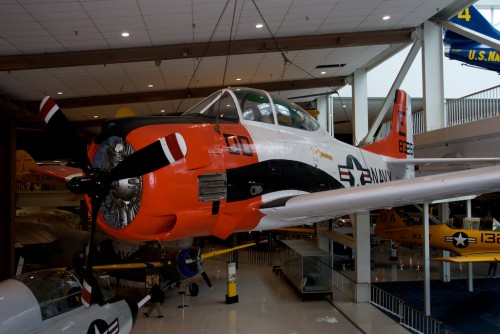 Trainer.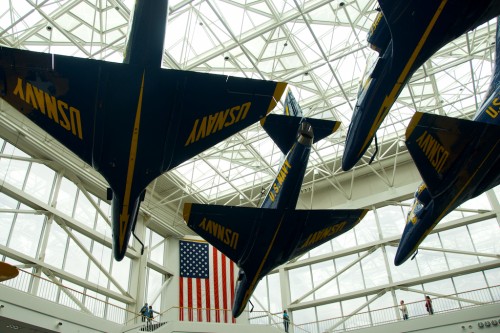 Forever stuck in formation.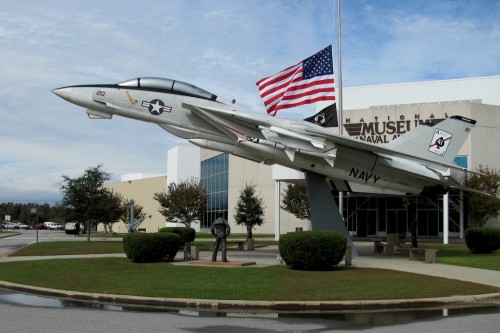 It eventually stopped raining.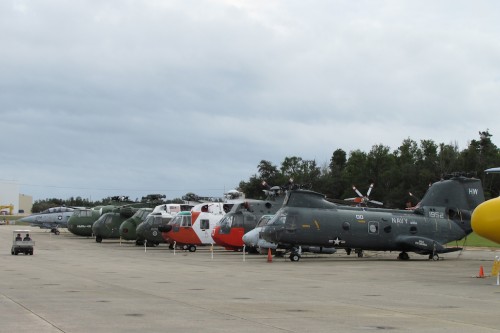 Chopper row.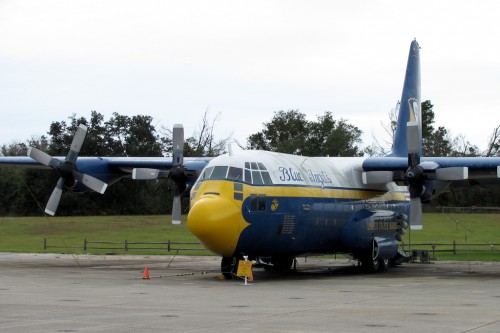 Fat Albert: always a crowd-pleaser.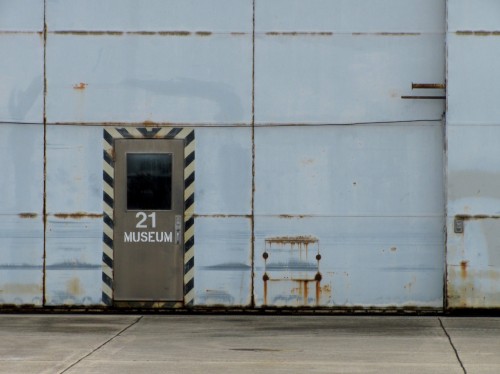 You asked me once, what was in Room 21. I told you that you knew the answer already. Everyone knows it. The thing that is in Room 21 is the worst thing in the world.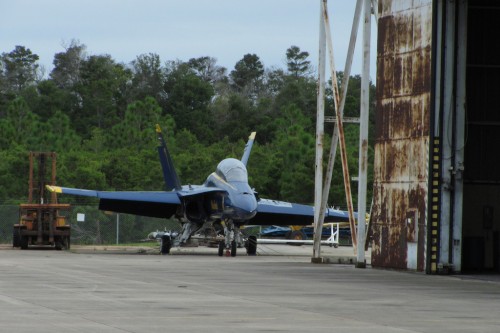 Yes, it *does* seem to be listing to port.
Beyond that:
The museum is actually on-base, which I thought was very cool.

I think the one thing this museum has going for it that no other flight museum has is the Blue Angels practices. Which get canceled when it rains three inches.
The museum has some usability issues, for instance: some of the displays are hard to read (see: "gling");

it was difficult to tell what the organization at the museum was meant to be — there are grouped displays, but their locations seem randomly selected; and some of the aircraft did not seem to have signs describing them.

Dave, our flight line tour guide, was exactly what you want a retired-Marine tour guide to be. Well done, very entertaining.
For some reason the four Blue Angels displayed in the museum (the old A-4s) are angled in a downward attitude. Seems sort of wrong.
The other thing this museum has that I thought was unusual and pretty cool was the artwork. They got a ton of artwork and a lot of it rulz — especially the WW2 stuff, which covered subjects I always thought should've been covered on canvas, but which I hadn't seen before. Wish the National Museum of the Marine Corps had had that (seems like it'd be the rightful place for some of these, for instance — or maybe I just failed to notice them there).
I don't think this museum quite nailed The Navy's Big Moment (IMHO, that'd be Midway). I mean, they talk about it, but it doesn't come alive or command attention the way you'd think it should. IMHO. Always IMHO.
But it was fun. Again, I thought it was particularly great that the museum was on-base.
It was also interesting to me that the base has its own lighthouse (what base doesn't?):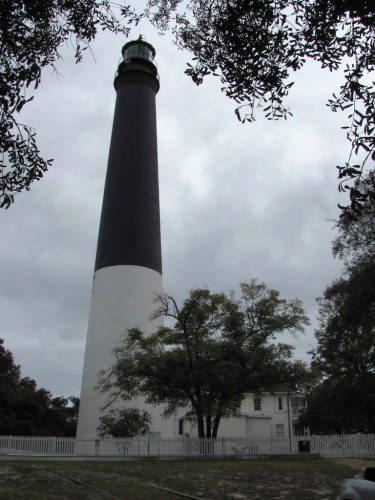 It keeps PBYs from hitting the control tower, I assume.
Once I got over the lighthouse, I left the base and headed to Warrington, which is where my parents lived when my dad was stationed in Pensacola. This is what the house looks like now: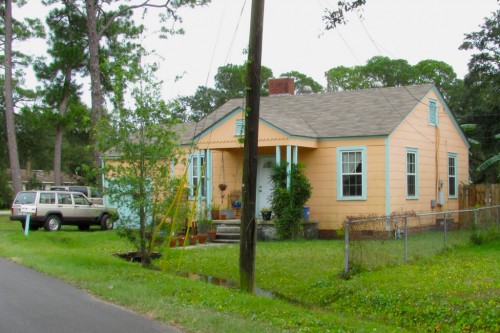 I like the gully.
Anyway — big day of naval aviation. And it's still sort of disappointing to go to these places where my parents (and siblings) lived before I was born and then to find them to not be stuck in the era in which my family lived there. I mean, how hard would it be for Pensacola to pull off 1961? Oh well: maybe next year.
bkd