Drove from Chicago out to Dearborn, Mich. to meet with my ol' mission buddy Jeff and his wife and to take in the #8 hamburger of all time. (I'm not sure why I never take photos of people I meet up with on this trip. And if I started now, it would seem sort of mean toward everyone I didn't already take photos of.)
Right, so Dearborn has this bridge that I drove under and that I thought looked cool.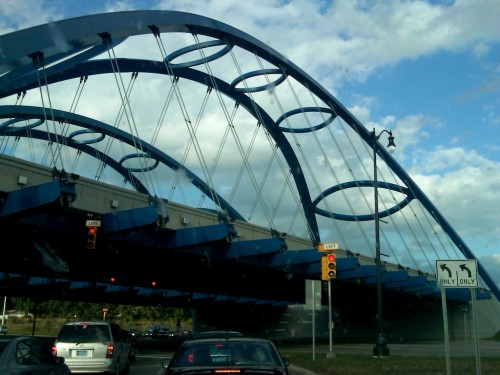 But my real cameras were packed in my backpack and it would've been an awkward place to get out of my car.
Then we hit Miller's Bar. Kind of an odd neighborhood — some beautiful, old, small residential homes (like 20 of them) right behind the bar, but otherwise car dealerships and closed-up restaurants dominated. Ah well.
When we sat down the waitress came to ask what we wanted, at which point Jeff informed her that we hadn't seen the menus, at which point she seemed a little flustered before answering: we don't have menus, we only have hamburgers or cheeseburgers and french fries and onion rings. At which point Jeff said, "Oh". Per the GQ list, I ordered the hamburger. They brought a cheeseburger, though, but I don't think GQ would really disapprove.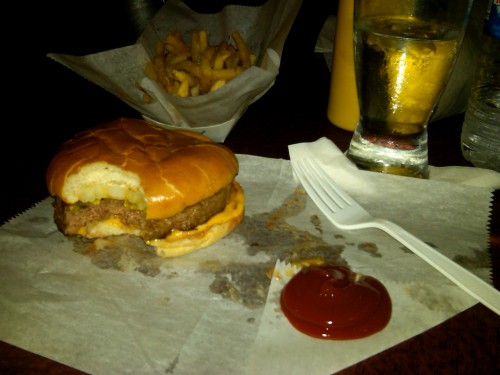 With a bun that shiny it *has* to be good!

I can't explain why exactly, but of the straight-up burgers from the list, this is my favorite so far. I don't know.
It comes out with just bun, burger, melted cheese.
The waitress brings slices of onion on a napkin and there are pickles, ketchup, and mustard on the table.
You're on your own from there.
Ordered medium-rare, yet the bun remained firm and true without disappearing.
I don't know. I just don't know.
It just tasted fantastic. And it wasn't like I hadn't eaten all day or anything. I really think it was the burger. Maybe they put good spices on it, or maybe they've got a meat grinder in the basement and are pulling a Sweeney Todd on us, but whatever. Simple, yet transcendent.
So of the eight I've eaten so far, here's my rank order:
Miller's Bar – Dearborn (#8 in GQ)
Houston's California Burger – Santa Monica (#6)
Le Parker Meridien Hotel Burger Joint Cheeseburger – New York (#9)
Red Mill Double Bacon Deluxe w/ Cheese – Seattle (#17)
Keller's Drive-In #5 Burger – Dallas (#10)
Poag Mahone's – Chicago (#18)
The Counter – Santa Monica (#15)
Burger Joint – San Francisco (#16)
I'd say IMHO, but no: this is not a matter of opinion. This is fact.
bkd
(PS, I think I'll only get to six more on this trip — outside shot at seven, but they get packed in pretty tightly in the tri-state area upcoming and I can't eat more than one hamburger a day without getting sick.)