Do bison need a "refuge"? Is there an underground railroad that guides the bison *to* the refuge? From whom are they taking refuge? From where are they refugees? And if it's a refuge, shouldn't they get to go wherever they want rather than getting shoved around by National Bison Refuge employees from giant pen to giant pen? And if you're going to invite people to drive around the refuge full of bison, shouldn't the bison put on a show? Or just do something other than stand there grazing?
But for their relative rarity, they don't seem all that different from cows. And the refuge seemed more like an internment camp. Nice skies though.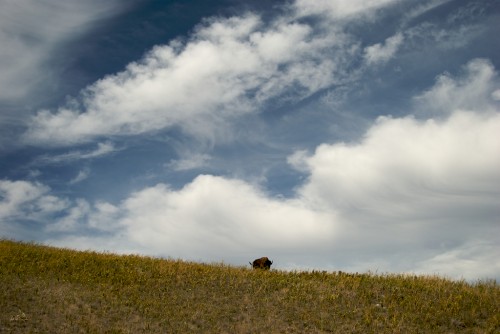 OTOH, bison strike better poses on the horizon.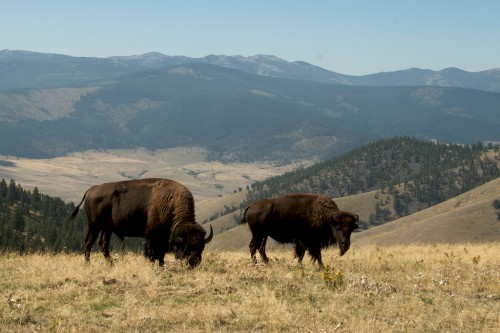 I was sort of excited about bison when I saw them, but after the third herd: oh well.
And then the Reader's Digest book suggested I go to the Catholic mission in St. Ignatius (it's maybe an hour north of Missoula) because of the church there.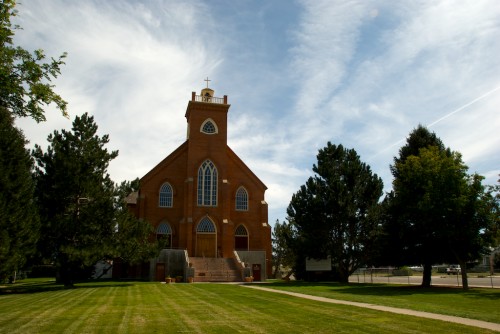 This is the outside of the church.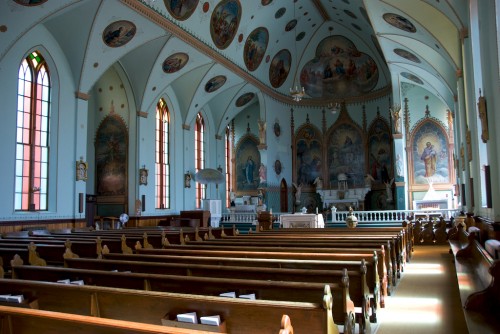 This is the inside of the church.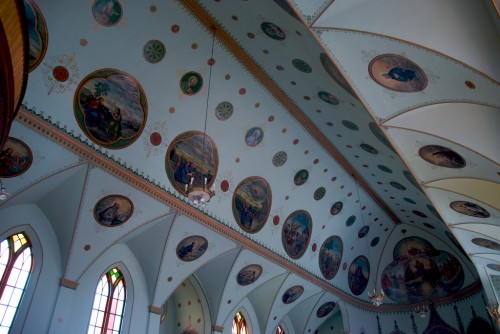 This is also the inside of the church.
Pretty cool for a 120-year-old Catholic church on an Indian reservation next to a dying logging town. Pretty cool for most Catholic churches, actually. The paintings were done by the original missionaries' cook, who didn't have any training as an artist. Although I'm guessing he made more money as a cook than he would have as an artist. You know, just realistically and all that.
Ended up getting down to a campground at Spanish Creek, a few miles north of Big Sky, almost at the bottom of Montana. National Forest Service campgrounds rule — another campsite on another river and within a small (13-site) campground for a reasonable ($13) price. And the number 13 keeps out the superstitious riff-raff (my theory — I can't prove this).
bkd