If there was ever a town that rues the box office failure of the second X-Files movie, it's Roswell, N.M. Obviously. OTOH, if David Duchovney ever needs a free drink, I'm guessing there are some folks there willing to chip in. Oh well.
Went here: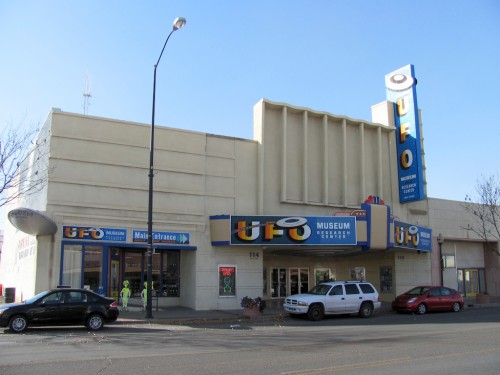 Folks are lined up for miles to get in!
Yeah, I dunno. I didn't take a lot of photos inside. Sadly. Mostly, it was temporary plywood walls with text-heavy documents and news clippings posted to them. A lot more reading than I had in mind for myself on a windy afternoon. But I appreciated the scientific deference that the curators exhibited in the displays as exemplified by words such as "some believe" and "may have been". And clearly I should have taken a photo of the crash site diorama.
But they had artwork like this: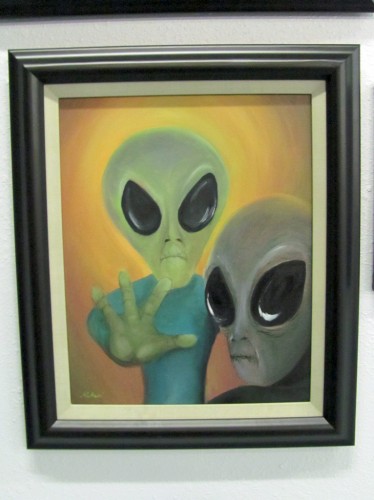 And nicely displayed I might add.
Most of the artwork just made me yearn to play XCom: UFO Defense, though. I know: it wouldn't feel the same as it did in the old days.
The museum is also trying to build a new facility. They have the land just a few blocks further up Roswell Main Street (which may not actually be called Main Street — but it should be). It looks ambitious, like the kind of project that never gets past the artist's rendering stage. Sadly.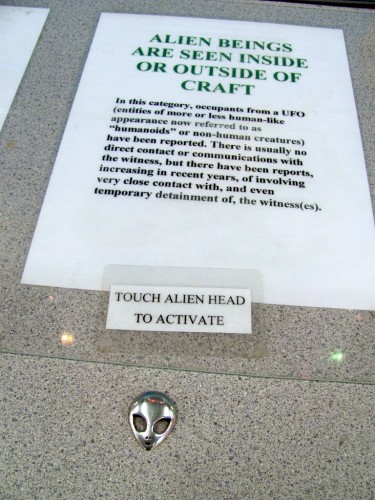 No explanation necessary.
I think the fact that the Air Force offered three different explanations at three different times empirically proves that a UFO crashed near Roswell in 1947. Meanwhile, I just gotta keep hoping that UFO: Alien Invasion is indeed an appropriate successor to the original XCOM.
Keep watching the stars skies!
bkd