October 4th, 2009
Comments off
The PATH train always seems so convenient until you're under the Hudson, at which point you realize that it takes a long time to get from Jersey City to NYC. Like 10 minutes, but still. Anyway, here's the #2 burger in all creation: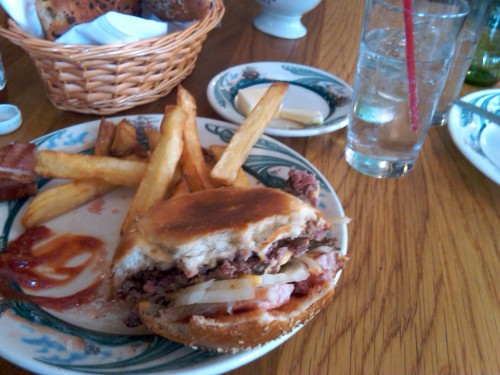 Check out how thick that bacon is! (It's the white and slightly pink thing at the bottom, the last layer before you hit bun.)
The burger fell apart too easily.
It was better once I pulled the bacon out.
Not as expensive as I thought it was going to be ($13 burger, $4 fries, $3 drink — yes, that's less than I expected).
I liked the fries — they were solid.
The burger came sans condiments and this time I went with the flow and kept it pure. Maybe I should've used the steak sauce tureen they brought out with the bread and water at the outset, though.
The saltedness seemed appropriate for the burger at hand.
It was good, but I liked the J.G. Melon one better. Peter Luger's is world famous for its meat, but I was disappointed when my hamburger patty broke apart and fell out of the bun. I think they knew I wasn't local. Maybe I should've just ordered the porterhouse after all. (No! I must complete the burger list!) (But I won't on this trip regardless!)
I haven't spent much time in Brooklyn, but I liked looking around. The restaurant is in Williamsburg, which is about 50% gentrified, 50% Puerto Rican. Interesting combo. The streets aren't packed with people, so it would probably afford some nice, somewhat-rundown cityscape photography. It'd be gritty and cool — but all I brought was my cell phone.
I want to go back some time so I can re-take this photo with a better sky (and better camera and hopefully better light):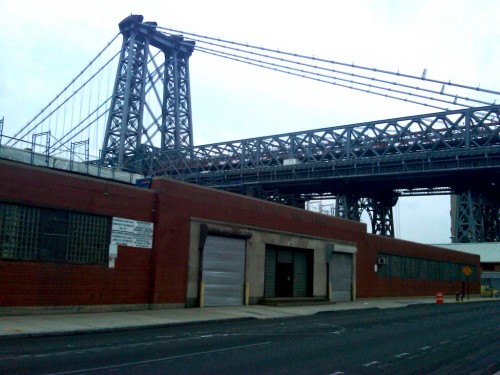 I like how flat it is.
That's the Williamsburg Bridge — I don't think I've ever been on it. Can't really remember where in Manhattan it takes you — Bowery? I could look it up. Could.
One of the things I like about NYC and that this trip to Brooklyn reminded me of is that the city seems infinite. You could spend your life walking around it and still not see everything (maybe). 'Course, there are parts you don't want to explore, so maybe check those out during daylight hours and while you're young enough to fight back.
bkd
PS, Went to dinner with Felice from my Michigan State month on Day 78. Was cool, good food, fun night.